Lula will tell his followers next week to vote for Fernando Haddad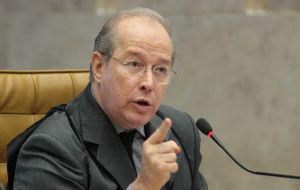 Brazil's jailed former president Lula da Silva is preparing to give up his bid to run in next month's presidential election, party sources said, after he lost two appeals at the Supreme Court on Thursday. That will remove the most popular candidate from October's race and pave the way for Lula's hand-chosen successor, Fernando Haddad, to become the Workers Party (PT) candidate.
Justice Edson Fachin ruled against a request from Lula's legal team that argued that Brazil was required to follow the recommendation of the United Nations Human Rights Committee and allow Lula to run for office from jail. Lula's legal team appealed the ruling.
Later in the day, Justice Celso de Mello rejected a separate, similar motion to maintain Lula's candidacy.
The PT sources said that Lula is expected to hand over a letter to Haddad during a jail cell meeting between the two men next week.
In the letter, Lula will ask his followers to vote for Haddad, sources said. The PT has until the end of Tuesday to register Haddad as its presidential candidate.
Lula, who served as president from 2003-2010, is ineligible for office under Brazil's "Clean Slate" law, which prohibits candidates from running if they have convictions that have been upheld on appeal.
Despite his conviction and several graft cases pending against him, Lula leads the electoral race by a long stretch, with 39% of voter support, according to pollster Datafolha. However the negative image of Lula is equally strong.
Polling has shown that Haddad, who is mired in single digits, would get a huge boost if backed by Lula to run, possibly enough to propel him into a second-round runoff. However, Haddad's chances were dealt a blow on Tuesday when he was charged with corruption, accusations that he denies.