EU Barnier's "realistic" comments on Brexit help prop sterling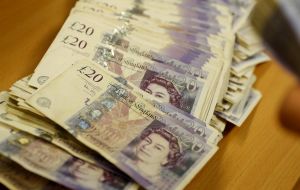 Sterling surged against the dollar and Euro on Monday after the European Union's chief negotiator said a Brexit deal was "realistic in six to eight weeks". For the second time in less than a week, Michel Barnier has signaled his desire to move ahead on the Brexit negotiations, less than seven months before the United Kingdom is slated to leave the European Union on March 29, 2019.
Barnier, the EU's chief negotiator, told a forum in Slovenia that it was "realistic" to expect a divorce deal with Britain, the British embassy to Slovenia said on Twitter.
The British currency rallied across the board, rising more than one percent to US$1.3052, its highest level in five weeks. The pound also rose to a one-month high against the Euro at 88.96 pence while versus the Swiss Franc it was headed for its biggest one-day rise in more than 18 months.
"It just shows that's the key thing that people want to see -- Brexit progress. You have a market that's heavily short on sterling due to Brexit. It needs that tail risk to be taken off before sterling can rally," said Viraj Patel, a currency strategist at ING in London.
Before Barnier's comments, the pound had traded modestly higher against the dollar and Euro as data showed the British economy posting its fastest growth in almost a year.
Sterling has rallied in recent weeks off lows below US$ 1.27, lifted by earlier seemingly favorable comments from Barnier.
On Friday he was quoted as saying the EU was open to discussing other "backstops" on Brexit, especially the Irish border issue, a key hurdle to agreeing a deal.
Sentiment, however, was hit earlier on Monday by warnings from a former junior minister, Steve Baker, that the ruling Conservative Party could face a split if Prime Minister Theresa May persisted with her Brexit blueprint, known as the "Chequers" proposals.
Baker said 80 or more lawmakers were prepared to vote against the plan. The comments, indicating the level of opposition within the party, came a day after former foreign minister, Boris Johnson, described part of the plan as "a suicide vest".
"Westminster is going to be a cloud over sterling before the Tory conference," ING's Patel said, referring to May's party gathering starting on Sept 30.
Headlines on the progress of Brexit negotiations have forced traders to switch positions rapidly in a currency market that is holding about US$ 5.5 billion in short positions on the pound, based on weekly futures positioning data.