Lula's party expected to announce Haddad as the presidential candidate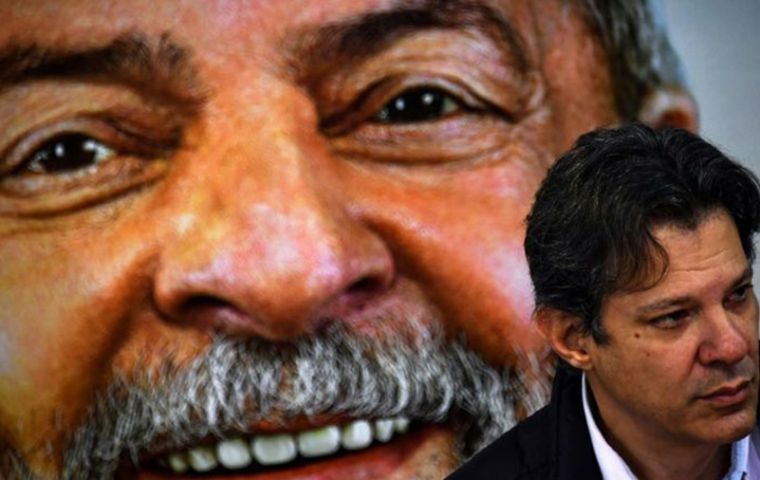 Jailed former Brazilian president Lula da Silva is expected to allow his Workers Party to announce running mate Fernando Haddad as its candidate, following the latest ruling from the Supreme Court. Lula had hoped the Justices would agree to an appeal for more time to switch the head of the Workers Party (PT) ticket after Brazil's top electoral court last week banned him from running due to a corruption conviction and gave him 10 days to remove his name.
According to PT sources Haddad will become the official candidate with an announcement outside the Federal Police headquarters in Curitiba where Lula has been jailed since April, serving a 12-year sentence for receiving bribes.
Apparently despite appeals still pending before the Supreme Court, Lula decided it was time to pass the baton to Haddad on the deadline set by the court and not run the risk of the votes for his party's ticket being annulled by the electoral court.
Lula's letter anointing Haddad will be read out to supporters who have camped outside the police building for five months to protest his jailing, which they consider a plot to keep him from returning to power, a party official said.
Lula and Haddad huddled together on Monday afternoon in his jail room and allegedly began to draw up the letter.
Lula served as president from 2003-2010 and remains Brazil's most popular politician. But he is ineligible for office under Brazil's "Clean Slate" law, which prohibits candidates from running if they have convictions that have been upheld on appeal, an initiative approved and sanctioned during his rule.
Lula's strategy has been to keep his candidacy alive for as long as possible, then work to transfer his support to Haddad, who is barely known in many parts of Brazil.
A Datafolha poll conducted on Monday showed that transfer has begun. While still in the single digits, support for Haddad increased from 4 to 9%, the biggest gain among the 13 candidates running for president.