Lula waiting for Supreme Court decision before giving up his presidential candidacy
Tuesday, September 11th 2018 - 08:15 UTC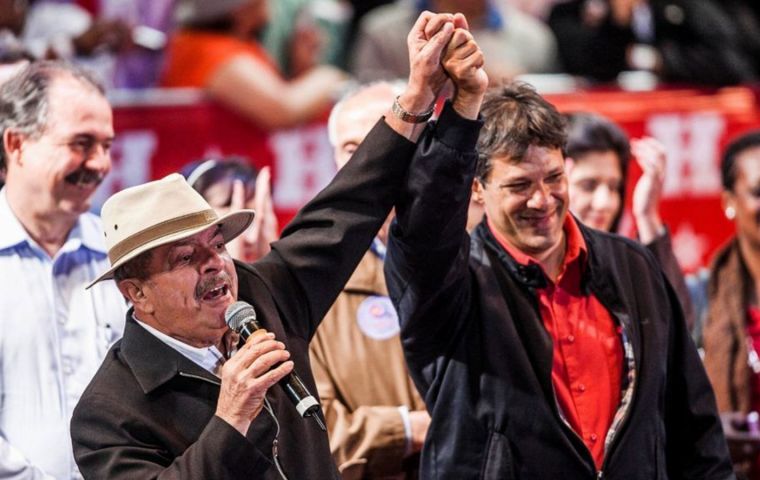 Brazil's imprisoned former president Lula da Silva will not yet bow out of next month's presidential race, waiting first to hear a Supreme Court decision on an appeal of his ban from running, his legal team said. His decision takes his leftist Workers' Party (PT) close to the limit on registering a candidate for the October 7 election, with a court having set Tuesday as the deadline for the PT to name a replacement nominee.
Lula da Silva served as president from 2003-2010 and remains Brazil's most popular politician. But he is ineligible for office under Brazil's "Clean Slate" law, which prohibits candidates from running if they have convictions that have been upheld on appeal.
He spent Monday meeting in his prison cell with his lawyers and Fernando Haddad, who is the vice presidential candidate on the PT ticket and is Lula's choice to replace him once his appeals are exhausted.
Lula da Silva had been expected to hand over a letter to Haddad during the meeting, asking his followers to vote for Haddad, party sources said last week. But the former leader decided to hold off on the handover, and is asking the Supreme Court to extend the Tuesday deadline for candidate registration as he has two separate appeals asking courts to reverse his ban.
Haddad, who had been expected to attend a rally in Sao Paulo on Monday night, instead canceled his trip and will remain in Curitiba to meet with Lula da Silva. The PT's strategy has been to keep Lula's candidacy alive for as long as possible, then work to transfer his support to Haddad, whose backing is in single figures.
Haddad's chances of making a probable second-round runoff between the top two candidates will hinge on his ability to tap into the massive support enjoyed by Lula. Despite his conviction and several graft cases pending against him, Lula, who denies any wrongdoing, leads the electoral race.
The next most popular candidate after Lula in opinion polls, Jair Bolsonaro, is in serious condition in intensive care after being stabbed while campaigning last week.