Brexit controversy: dissident Tory MPs meet to discuss how and when to dump Theresa May
Wednesday, September 12th 2018 - 08:38 UTC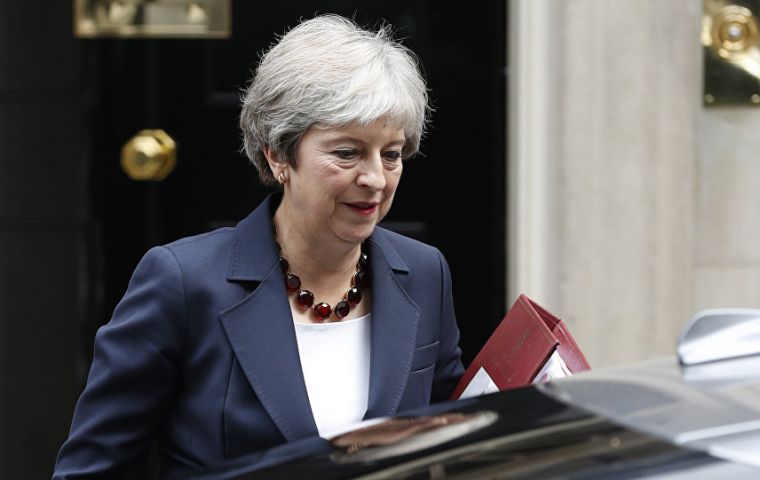 Conservative MPs opposed to Theresa May's Brexit plan have met to discuss how and when they could force her to stand down as prime minister. Around 50 members of the European Research Group (ERG) openly discussed "how best you game the leadership election rules," a source said quoted by BBC.
The Eurosceptic MPs are to unveil what they say is a solution to the Northern Ireland border issue. They have been under pressure to come up with alternative Brexit plans.
One MP present at the meeting on Tuesday evening said the group considered "possible scenarios over the Autumn" depending on the deal the prime minister did or didn't get with the EU, BBC political correspondent Jonathan Blake said.
Comments at the meeting were said to include "everyone I know says she has to go", "she's a disaster" and "this can't go on". One source said "people feel the leadership is out of touch and has lost the plot", but another said changing the leader "is a stupid idea now".
Under current rules, a Conservative leadership contest is triggered either if the leader resigns, or if 15% of Tory MPs (currently 48) write to the chairman of the backbench 1922 Committee, demanding a vote of no confidence.
The ERG strongly opposes the government's proposals to avoid the need for new border checks after the UK leaves the EU, as outlined in what has become known as the Chequers plan.
Alternative plans for the border are due to be unveiled at an event in London which will be attended by former Northern Ireland Secretaries Owen Paterson and Theresa Villiers, the former Brexit Secretary David Davis and former Northern Ireland First Minister Lord Trimble.
Conservative MP Jacob Rees-Mogg, who chairs the ERG, said that the group would offer a solution "that any reasonable person would accept".
With the UK due to leave the EU on 29 March 2019, the challenge has been to avoid a so-called hard border between Northern Ireland and the Republic of Ireland - which is an EU member.
Both sides are keen to avoid the imposition of barriers and checkpoints amid warnings of damage to cross-border trade and disruption to the Good Friday Agreement, which was signed in April 1998 and helped bring an end to 30 years of sectarian conflict, known as the Troubles.