Brazilian presidential candidate Bolsonaro undergoes emergency surgery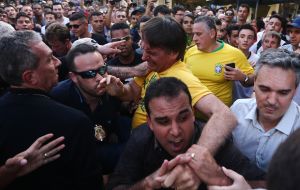 Brazilian presidential candidate Jair Bolsonaro underwent emergency surgery on Wednesday evening, according to a medical report released by the hospital caring for him.
The report released by the Albert Einstein Israelite Hospital said the surgery was aimed at dealing with adhesion on Bolsonaro's intestinal walls. Doctors decided to carry out the operation after a tomography on Bolsonaro, who complained of "progressive abdominal distension and nausea."
Bolsonaro was stabbed in the abdomen during a campaign event in Juiz de Fora, Minas Gerais state on Sept. 6. He underwent surgery to address wounds to his colon and intestines. On the next day, he was transferred to the Albert Einstein Israelite Hospital and has stayed there ever since.
On Tuesday, the hospital said that Bolsonaro had moved from a feeding tube to a light diet and left the intensive care to semi-intensive care. However, Bolsonaro was later back on the feeding tube again. Doctors said he has no fever or other signs of infections.
Neither Bolsonaro's campaign team nor his son, Eduardo, responded to requests for comment. The stabbing of Bolsonaro has knocked him out of campaigning ahead of the Oct. 7 first-round vote in Latin America's biggest country.
The latest medical report was signed by Dr. Antônio Luiz Macedo, surgery; Dr. Leandro Echenique, clinic and cardiologist and Dr. Miguel Cenderoglo, Director of the Hospital Israelita Albert Einstein. Surgery lasted sixty minutes.