"Extremely dangerous major" hurricane Florence advancing on the Carolinas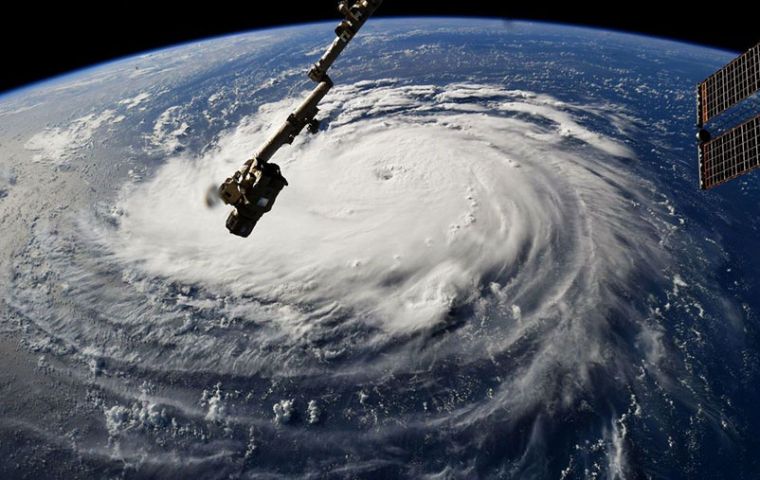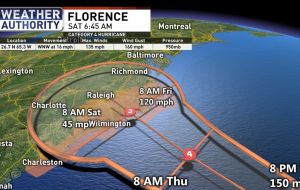 Hurricane Florence, one of the strongest storms to threaten the East Coast of the United States in decades, continued to swirl in the Atlantic on Wednesday night on a path that is taking it dangerously closer to the Carolinas. Meanwhile, another storm system in the Atlantic gained strength on Wednesday and was named subtropical Storm Joyce.
In its latest forecast track, released at 8 p.m., the US National Hurricane Center said Florence is a Category 3 hurricane, with sustained winds of 115 mph and moving northwest at a pace of 16 mph. Although Florence weakened slightly since Wednesday morning, when it was a Category 4 storm, and is expected to weaken again on Thursday, it remains a powerful hurricane and is "forecast to be an extremely dangerous major hurricane when it nears the U.S. coast late Thursday and Friday," the hurricane center said in its newest advisory.
An estimated one million people have abandoned the possible impact area along the Carolinas coastline.
Florence is a huge storm system, with hurricane-force winds extending out to 70 miles from its center and tropical storm-force winds reaching as far as 195 miles, forecasters from the National Hurricane Center noted.
"Winds are expected to first reach tropical storm strength on Thursday, making outside preparations difficult or dangerous," the latest advisory says. "Preparations to protect life and property should be rushed to completion."
Forecasters initially said Florence could blow ashore as early as Friday afternoon near the border of North Carolina and South Carolina, then push its way westward and dump torrential amounts of rain on inland areas. Now it appears landfall might not occur until early Saturday afternoon.
In addition to the substantial threats of devastating winds, torrential rain and high storm surge in coastal areas of the Carolinas, forecasters said a few tornadoes are possible in eastern North Carolina on Thursday.