International support for Argentina's general strike against IMF austerity measures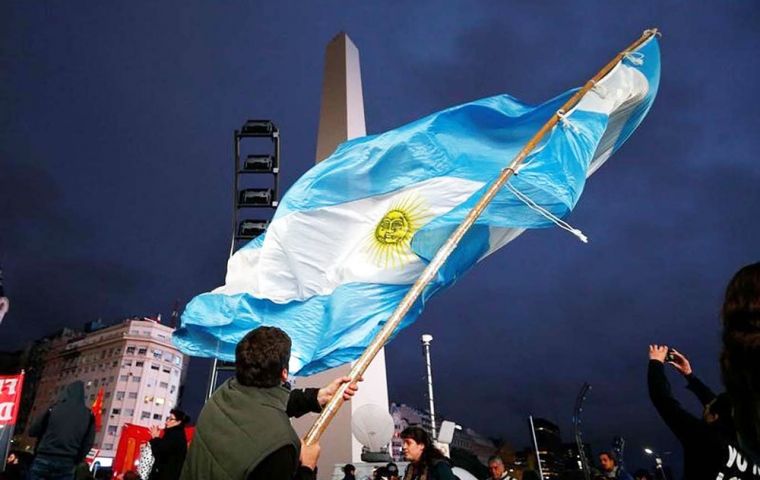 The International Trade Union Conference, ITUC's affiliates in Argentina, CGT, CTA-A and CTA-T have announced a general strike for 24-25 September in opposition to expected sweeping austerity measures being developed by the government and the International Monetary Fund.
Protesters have taken to the streets in Buenos Aires, warning of extreme hardship for families already hit by spiraling inflation, prior to the return of an IMF mission to negotiate a possible rescheduling of disbursements from the Fund's US$ 50 billion loan.
The lending agreement was approved in June after the Argentine currency lost a third of its value in the first six months of 2018. Two weeks ago, President Mauricio Macri released a video in which he stated that the IMF had consented to a speeding-up of its loan payments. The peso promptly plunged a further 15% when it transpired that no such agreement existed.
Since then, Macri and his Finance Minister have announced additional austerity measures with the objective of eliminating the primary fiscal deficit by next year rather than in 2020, as the Fund had initially demanded. The mandate of the Fund's mission is to discuss "strengthening the IMF-supported program", which could include rescheduling of payments. The IMF has not announced a timeline for a possible revised agreement but government officials have told local media that they hoped to conclude by the end of this month.
The Argentine economy is already in recession and a further round of austerity measures is likely to prolong it into 2019, contradicting the government's forecast that GDP growth will return next year. If the IMF endorses deeper austerity in Argentina, it may lead to a repetition of the downward-spiral scenarios that it contributed to in several European countries earlier this decade. Drastic "fiscal consolidation" measures supported by the IMF set off multi-year recessions in Spain, Portugal, Greece, Cyprus and Croatia.
ITUC General Secretary Sharan Burrow said "The government and the IMF look ready to impose devastating measures which will fall most heavily on workers and low-income people, and stifle any potential for sustainable development of the country's economy. The international trade union movement stands with our Argentinean trade union colleagues in rejecting failed austerity and demanding solutions which will help the real economy rather than simply doing the bidding of financial markets".
The ITUC represents 207 million members of 331 affiliates in 163 countries and territories.