Argentine Peso slid on Tuesday but the Merval stock market climbed a strong 3%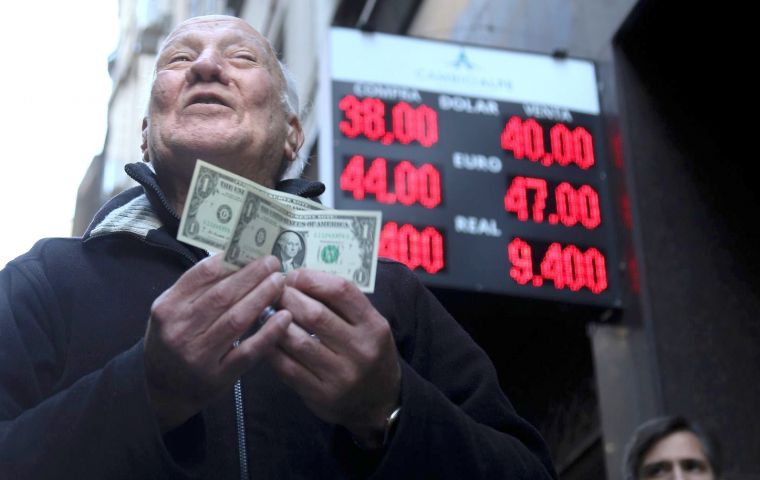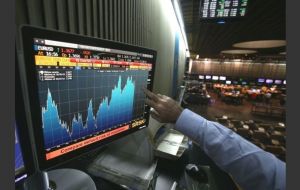 Argentina's central bank sold US$ 261 million in reserves on Tuesday, the monetary authority said in a statement announcing its latest intervention in the foreign exchange market aimed at easing the fall of the local currency.
The peso fell 0.58% on Tuesday to 39.80 per dollar after hovering over 40 Pesos to the greenback. The central bank has spent more than US$ 15.6 billion this year in interventions aimed at bolstering the currency, according to official data. In the first two days of this week the bank has intervened with over US$ 500 million.
The peso has nonetheless lost more than 53% of its value against the greenback as investors grew concerned about Argentina's ability to pay its debts and as higher U.S. interest rates siphoned investment off from emerging markets worldwide.
Meantime the stock exchange index Merval was up 3% on Tuesday, reaching 32.106 points pushed mainly by the energy sector. A total of 69 stocks increased in value while 9 were down and 12 remained unchanged.
The imminent agreement with the IMF, (Economy minister Nicolas Dujovne is flying to Washington this weekend) on the new standby credit, plus Congress willingness to discuss a zero primary deficit for the 2019 budget has changed the mood of markets.
This despite the fact that Argentina's JP Morgan country risk index was up 1.1%, to 656 points after several days of gradually receding. Actually the country risk index is some 150 points down from the maximums reached during the recent run from the Peso to the US dollar.