Haddad pledges no pardon for imprisoned Lula da Silva, if he is elected president
Wednesday, September 19th 2018 - 09:06 UTC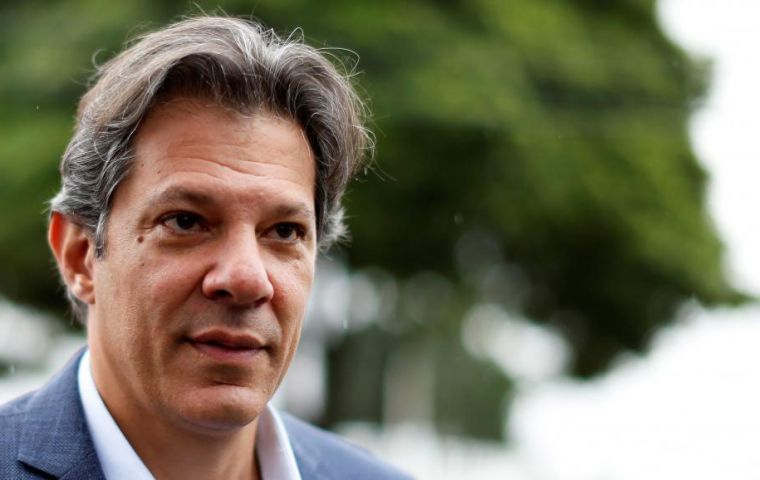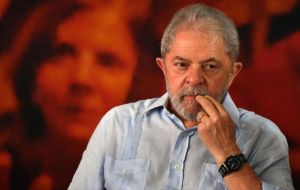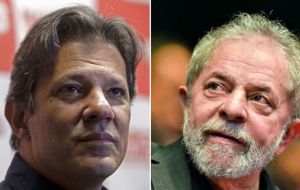 Brazil's leftist presidential candidate Fernando Haddad on Tuesday ruled out pardoning the jailed former head of state and his own party's iconic leader Lula da Silva should he triumph in October's elections.
Haddad was named as the Workers' Party (PT) candidate last week after Lula finally gave up his audacious bid to stand in the October 7 first round presidential election from his prison cell.
The 72-year-old, president from 2003-2010, was hoping to win a third term in office and until last week Lula was streaks ahead in opinion polls.
But since Haddad was named as his replacement, the former Sao Paulo mayor has quickly risen up the poll rankings to sit second behind right-wing frontrunner Jair Bolsonaro in the latest figures released on Monday.
Should he be elected, though, he won't be exercising his right to pardon criminals to free Lula from a 12-year corruption sentence.
"Lula is not going to abandon the defense of his innocence. He's the first to say: 'I don't want favors, I want the Brazilian courts and international forums to recognize that I was the victim of a judicial error'," Haddad told CBN radio and the G1 website.
Lula was barred from standing in the election by Brazil's electoral court due to the country's "clean-slate" law. As well as campaigning for himself, Haddad said he wouldn't abandon Lula's fight for freedom.
"As a citizen I will remain in the campaign to free the president," said Haddad, 55.
While Lula's name still figured in opinion polls, Haddad commanded little support, but now that he is unconditionally the PT candidate, he has quickly climbed to second with a 17.6% share, according to Monday's poll by the MDA institute.
That's still a fair way behind Bolsonaro, with 28.2%, while the poll also predicted Haddad would lose a second round run-off against the ex-army captain, currently recovering in hospital after he was stabbed earlier this month by a leftist activist while out on the campaign trail.
Behind Haddad, center-left candidate Ciro Gomes is a distant third with 10.8%.