Polite EU 27 plus Theresa May meeting , but Irish border bogs any deal on Brexit
Thursday, September 20th 2018 - 08:24 UTC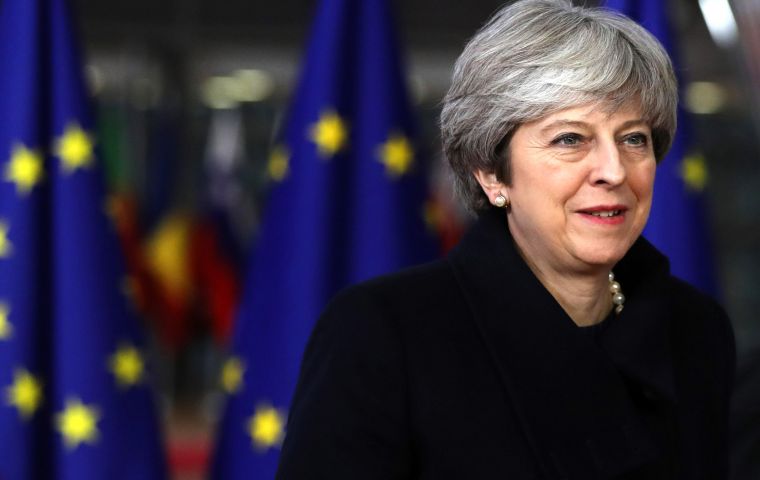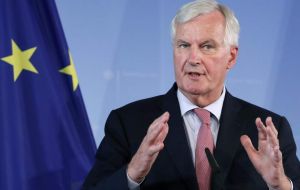 Prime Minister Theresa May appealed directly to fellow European Union leaders on Wednesday to drop "unacceptable" Brexit demands that she said could rip Britain apart, urging the bloc to respond in kind to her "serious and workable" plan.
They listened politely for a few minutes but said afterwards that a stalemate on the Irish border was unbroken — though some EU diplomats detected a cracking of ice around the spectacular summit dinner table, laid in the Salzburg theater used to film a dramatic escape finale in the film "The Sound of Music".
After four hours of wrangling over Europe's migrant problem, May was given the floor and tried to win over her 27 peers by effectively asking them what they would do if they were asked to agree a "legal separation" of their countries — something she says the EU is asking for by insisting Northern Ireland might stay under EU economic rules.
Maintaining a united front that refuses to let May bypass the negotiations run by Michel Barnier of the European Commission, they did not respond to her. They will discuss the issue among themselves over lunch on Thursday, setting what Barnier hopes can be a path to a final deal in two months.
"I believe that I have put forward serious and workable proposals," May told the summit, according to a senior British government source. "We will of course not agree on every detail, but I hope that you will respond in kind.
For now, however, with May still facing criticism of her "soft Brexit" approach at her Conservative Party conference in 10 days, there was little sign of either side giving way.
With barely six months until Britain leaves the bloc, at the risk of serious disruption if there is no deal to tie up legal loose ends, there is pressure on both sides: "You can hear very clearly the clock ticking in the room," said the second diplomat. "And that's starting to have a psychological effect."
EU officials again said Britain had to move its own position over what has become known as the Irish backstop - how to avoid erecting border posts between the British province and EU member Ireland - as well as on future economic cooperation after Brexit day in March.
The talks, which have gone on for over a year, are bogged down in how to ensure that what will become Britain's only land border with the EU, between Northern Ireland and Ireland, will not become home again to the checks and tensions of the past.
May has rejected an EU proposal to keep the province in a customs union with the bloc if they fail to reach a deal to keep the entire EU-UK border open, instead offering a time-limited customs arrangement that would cover the whole of Britain.
Over dinner, she said the problem could be solved by securing the type of "frictionless trade" envisaged in her Chequers plan, and that Britain was still committed to agreeing a fall-back scheme with the EU.
"However, the Commission's proposal for this protocol - that I should assent to a legal separation of the United Kingdom into two customs territories - is not credible," she said.
Irish Prime Minister Leo Varadkar told reporters before the dinner that there had been no advance on the issue: "I don't think we're any closer to a withdrawal agreement than we were in March, so I can't report any progress, unfortunately."
May will attend a morning session on Thursday to discuss security, where she will raise the poisoning of a former Russian spy. She will also have a face-to-face meeting with Varadkar.
She will then be out of the room when the other 27 leaders discuss her Brexit proposals over lunch, and will find out about their reactions only when summit chair Donald Tusk briefs her separately afterwards.
But the senior British source said Britain believed momentum was growing for a deal, noting Tusk's plan to convene a special summit in mid-November to ink a hoped-for treaty.