Bolsonaro undergoes further surgery to drain liquid from abdomen
Friday, September 21st 2018 - 09:23 UTC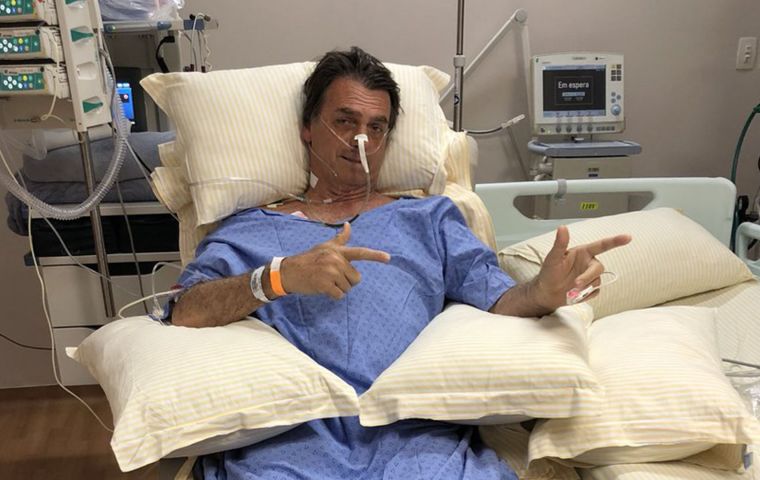 Brazilian extreme right presidential candidate Jain Bolsonaro, who was stabbed during a political rally over a week ago and has since been under intensive care in the Albert Einstein hospital in Sao Paulo, had to undergo another emergency invasive intervention following high fever and accumulation of liquid in his abdomen.
When the attack with a knife the candidate besides almost bleeding to death was severely injured with pierced intestines, which is extremely dangerous given the recurrence of potential infections.
Although the medical team was able to save Bolsonaro, he remains under intensive care conditions with attempts to replace oral with normal light-feeding, but this has been with limited success.
According to the latest medical release on late Thursday evening, the patient underwent a computerized tomography of the thorax and abdomen, following high fever reaching 37.7 centigrade, which is described as febricula or a mild and transient fever. It was this exam which discovered a small accumulation of liquid. Drainage was done with no problem. The candidate continues with a drain tube, but with no pain.
The medical unit also said that Bolonaro is on an oral liquid diet complemented with intravenous serum nutrition, which has been well received by the organism of the candidate. The extracted liquid must now be analyzed for possible infection.
Bolsonaro has been hospitalized since 6 September when the attack and flown in emergency to Sao Paulo. Since then the candidate has undergone two surgeries.
Pictures of him at the hospital bed, sending a message to his followers, and attempting to walk with the help of one of his sons and a nurse have been released.
The former Army captain leads vote intention for October 7 presidential election first round with 28% support, according to both Datafolha and Ibole public opinion polls.