Bolsonaro expects to be discharged from hospital, "God willing" at the end of the month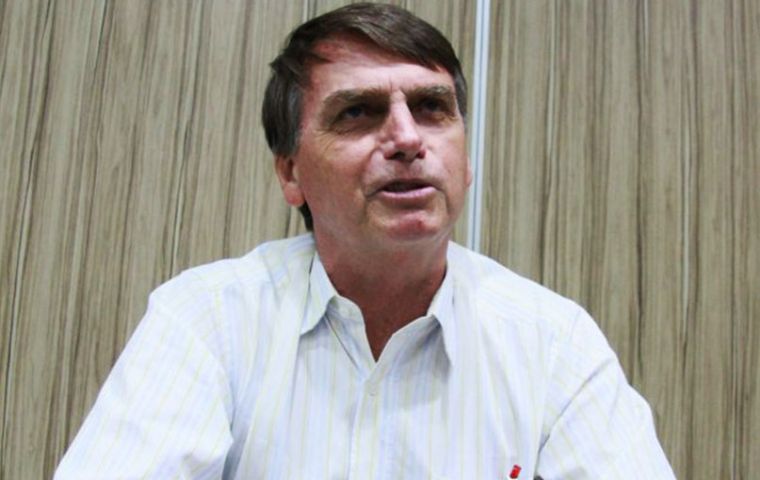 Brazil's right-wing presidential candidate Jair Bolsonaro said in a video released Friday that he expects to leave hospital before the end of the month after he was stabbed in the abdomen two weeks ago.
"I've never felt so happy and good in my life. Many thanks to you all. By the end of the month, God willing, I'll be discharged," said the 63-year-old ex-army captain in a video released on Facebook.
He has been leading opinion polls ahead of the October 7 first election round ever since jailed leftist former president Lula da Silva was barred from standing due to his corruption conviction.
"We're returning, together, to make Brazil a great nation," Bolsonaro added in a message eerily similar to US President Donald Trump's "Make America Great Again" catchphrase.
You would like to read Bolsonaro reprimands his chief economic advisor over new taxes controversy
Bolsonaro underwent two operations and has been in hospital since September 6 when he was stabbed by a left-wing activist while campaigning in southern Brazil. He also had to be drained of liquid accumulation in his abdomen.
In the latest Datafolha opinion poll released last Wednesday, he tabled 28% of the vote, with Lula's replacement and Workers Party candidate Fernando Haddad second at 16%.
Although they are the leading candidates, Bolsonaro and Haddad are also the two most hated amongst the 13 presidential runners and engender the highest rejection rates.
Bolsonaro has been heavily criticized by detractors over controversial comments many deemed racist, sexist and homophobic, while he has also spoken admiringly about the 1964-85 military dictatorship's use of torture.
But his supporters laud his tough stance on crime and he is seen as a market-friendly candidate.