Bolsonaro's homophobic rhetoric backfiring among women voters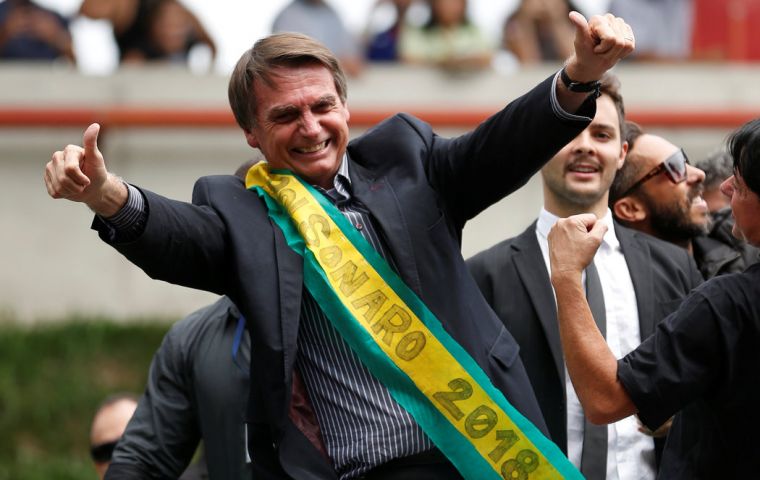 Brazil's far-right presidential candidate Jair Bolsonaro built much of his reputation on shocking, sexist rhetoric. But that's backfiring with the majority of the electorate: women. The former Army captain's rejection rate has risen to 50% among female voters, even as he lies on a hospital bed after being stabbed by a fanatic.
A social media campaign against his presidential bid is gaining traction under the #NotHim hashtag, with women planning nationwide rallies against the candidate on Sept. 29.
Among his outrageous remarks, Bolsonaro once said a congresswoman was "too ugly to merit raping." He described the birth of his daughter as a moment of "weakness" after his four sons. He said there is no problem if women receive lower salaries than men for the same job because they get pregnant. His campaign hit a new low with women last week when his vice-presidential pick, General Hamilton Mourao, said poor families led by single mothers and grandmothers were "factories of misfits."
Bolsonaro later disavowed his running mate's comments. If no candidate wins over 50% in the first round vote, the two frontrunners will square off in a second round, where Bolsonaro's high rejection rate could prove a major obstacle. Opinion polls show him statistically tied with or losing to his possible contenders.
A Facebook page called "Women United Against Bolsonaro" garnered some 3 million followers once its administrators regained control of the group after a hacking.
However, the former paratrooper polls at 20% among women, according to the latest Ibope poll, higher than any other candidate. Supporters of Bolsonaro tend to overlook his controversial remarks.