Latest poll in Brazil shows extreme right Bolsonaro losing ground
Thursday, September 27th 2018 - 08:57 UTC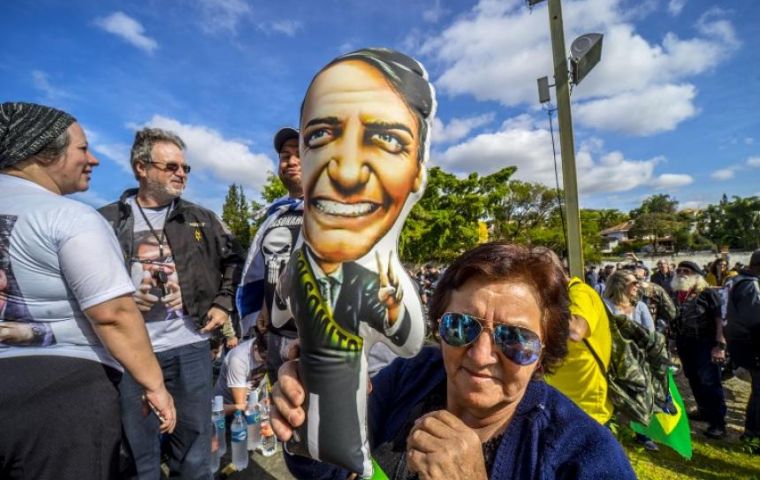 Brazil's far-right presidential candidate Jair Bolsonaro has only a six-point lead over surging Workers Party candidate Fernando Haddad, and would lose a second-round runoff against him next month, a new opinion poll showed on Wednesday. However both leading candidates lost one percentage point over last week's poll and only Ciro Gomes climbed from 11% to 12%
Bolsonaro, who is recovering in hospital from a near-fatal stabbing, has held his lead ahead of the Oct. 7 election with 27% of voter support, the survey by polling firm Ibope commissioned by the National Confederation of Industry, CNI, indicated.
Haddad, who replaced jailed former president Lula da Silva on the Workers Party ticket, is close behind with 21%.
Haddad, a former Sao Paulo mayor, would defeat Bolsonaro by 42% versus 38% in a likely second-round runoff required by Brazilian law if no candidate wins a majority, according to the survey, which confirmed other recent polls.
Ibope said support for center-left candidate Ciro Gomes is hovering in the upper 12% area, while business-friendly former Sao Paulo governor Geraldo Alckmin is stagnant at 8%. Bolsonaro would lose the election if he had to face either Gomes or Alckmin in a runoff, the poll showed.
Blank and spoiled votes totaled 11% and 7% have not decided on a candidate or did not wish to reply.
The previous Ibope poll on 22/24 Sept. showed Bolsonaro with 28%, Haddad, 22% and Ciro Gomes, 11%.
The CNI/Ibope poll also surveyed rejection of candidates, with Bolsonaro leading with 44%, voters saying they would not support him under no circumstances. Haddad rejection marked 27%, while that of Alckmin was 19% and Ciro Gomes 16%.
Finally the poll also asked what chances of changing vote to avoid the other candidate from winning the election. Some 28% of voters admitted a high or very high probability of changing vote to impede that one of the leading candidates does not make it to the presidency. Likewise another 48% of interviews replied as low or very low the possibility they would change their vote in such a circumstance.
The poll commissioned by the CNI industry lobby surveyed 2,000 voters across Brazil on Sept. 22-24 and has a margin of error of two percentage points. The so called confidence rate was estimated at 95%.