UK Secretary of State for Scotland in Chile to reinforce bilateral relations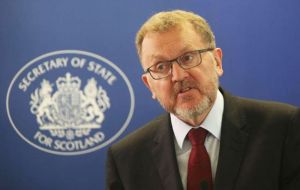 David Mundell MP, Secretary of State for Scotland is currently in Chile where he arrived on Wednesday to reinforce the existing close links between the UK and Chile, including trade, science and innovation, defense and green growth.
His program of meetings include a call on Antonio Walker, Minister of Agriculture and meetings with directors of SAG – National Institute for the Food Industry- and Fundación Chile, to learn about the innovation eco system for companies in the food industry. He will also be meeting Chilean and British business people.
David Mundell said that his first visit to Chile comes at an important time, "as our two countries continue to work closely on issues such as human rights, security and peacekeeping, climate change and protection of our oceans.
"The UK and Chile have strong links, going back more than 200 years. I am looking forward to promoting business opportunities in mining, transport, healthcare, agritech and infrastructure".