Princess Anne will visit Chile for the bicentenary of the country's Navy
Saturday, September 29th 2018 - 08:36 UTC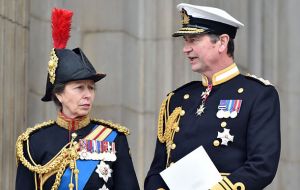 Her Royal Highness The Princess Royal will visit Chile in November and December to attend the activities organized to mark the 200th Anniversary of the Chilean Navy. The Princess Royal will travel in the company of her husband, Vice Admiral Sir Timothy Laurence.
The Princess Royal has visited Chile on two previous occasions, in 1991 and 2007, when she had engagements in the cities of Santiago, Valparaíso and Punta Arenas.
About the visit, Her Majesty's Ambassador to Chile, Mr. Jamie Bowden, said:
"We are delighted that the Princess Royal will visit Chile in November. We will be celebrating the relationship of extraordinary warmth between our countries that goes back to the earliest days of the Republic. 1818 was not only the year of the foundation of the Chilean Navy but also of the arrival here of Admiral Lord Cochrane. Her Royal Highness will also attend various events to commemorate this historical moment and the links between our Navies that began with Lord Cochrane's arrival".