Two more Argentine conscripts fallen during the Falklands' conflict have names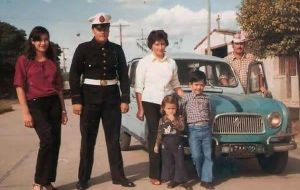 The remains of two more Argentine conscripts who lost their lives during the 1982 South Atlantic conflict and are buried at the Argentine military cemetery in the Falkland Islands have been identified, according to the Human Rights Secretariat Office in Buenos Aires. This brings the total number of identified soldiers, previously only marked as "Argentine soldier, only known to God", to 99.
The Human Rights Secretariat Office said they are Jorge Alfredo Maciel and Mario Gustavo Rodríguez. Both of them had been honored with the "Argentine Nation to the Fallen in Combat" award and had been considered national heroes.
Maciel, an 18-year old conscript was born in the north of the Buenos Aires province, was recruited by the Marine Corps and died defending Mount Longdon on 11 June 1982, according to the official report. Two bronzed in San András de Giles, his home town recall his name.
Rodríguez, also 18, died in the final days of combat in the Falklands and there is a small plaza with his name in Adrogué, the outskirts of Buenos Aires City where he was living when recruited.
A multi-discipline team was responsible for notifying the families of the identification. The team depends from Argentina's Memory National Archives.
The identification process of unknown Argentine combatants buried in the Argentine military cemetery at Darwin, is in the framework of a 2016 humanitarian project agreed by the UK and Argentina, and with support from the local elected government of the Falkland Islands, under the guidance of the International Committee of the Red Cross with the purpose of putting a name to 123 black marble tombstones which simply said "Argentine soldier, only known to God"
By December 2017, the INCRC reported that 90 remains had been finally identified, and last March some 248 Argentines, mostly relatives of the fallen, accompanied by a few government and religious officials visited the cemetery to pray and honor their beloved.
The Argentine Human Rights Secretariat also reported that in a recent meeting of the ICRC in Geneva, the head of the office Claudio Avruj was invited together with the Malvinas fallen relatives and the UK government to present the Falklands/Malvinas Humanitarian Plan Project as a procedure model for other countries.