Bolsonaro and Haddad technical tied in Brazilian presidential race according to latest poll
Monday, October 1st 2018 - 08:55 UTC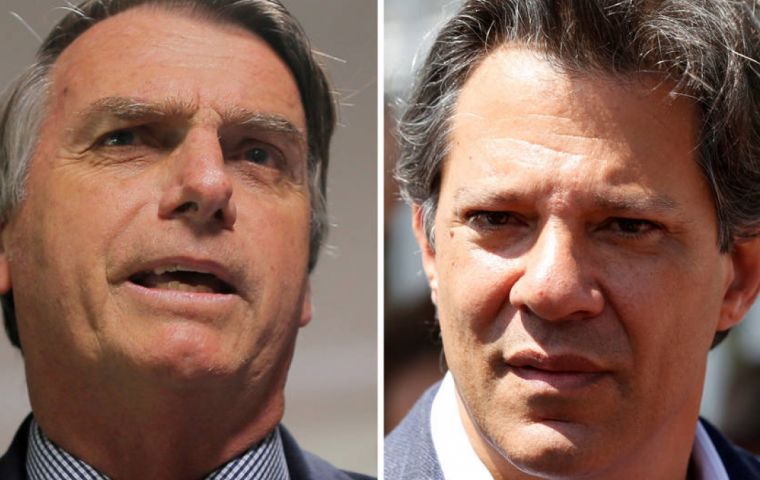 The latest public opinion released in Brazil on Sunday, a week ahead of the 7 October presidential election first round shows the two leading candidates virtually in technical ties.
Right wing Jair Bolsonaro, who on Saturday was discharged from hospital recovering from a stab attack at the beginning of September still leads with 28.2% of vote intention, while Fenando Haddad, from the Workers Party figures with 25.2% This is considered by pollsters as a technical tie since the survey has a plus/minus 2.2 percentage points error margin.
They are followed by Ciro Gomes with 9.4%, Geraldo Alckmin, 7.3% and Marina Silva, 2.6%, while all other hopefuls figure with less than 2%. Blank or spoilt votes, 11.7% and undecided or would not reply, 8.3%.
The MDA poll, contracted by the National Confederation of Transport, CNT, was done on 27/28 September, interviewing 2.002 people in 137 municipalities in 25 federation units of Brazil's five regions. It has a level of confidence of 95%, and has been registered with the Brazilian Electoral Tribunal.
Under these latest readings, in the October 28 runoff between the two most voted candidates who did not manage 50% of votes cast, and based on this Sunday's results, Haddad would defeat Bolsonaro 42.7% to 37.3%. Similarly Bolsonaro would lose to Ciro Gomes but would defeat Geraldo Alckmin. In a runoff between Haddad and Gomes it would also be a technical tie.