Argentine minister and UK ambassador attend play performed by Argentine and British South Atlantic veterans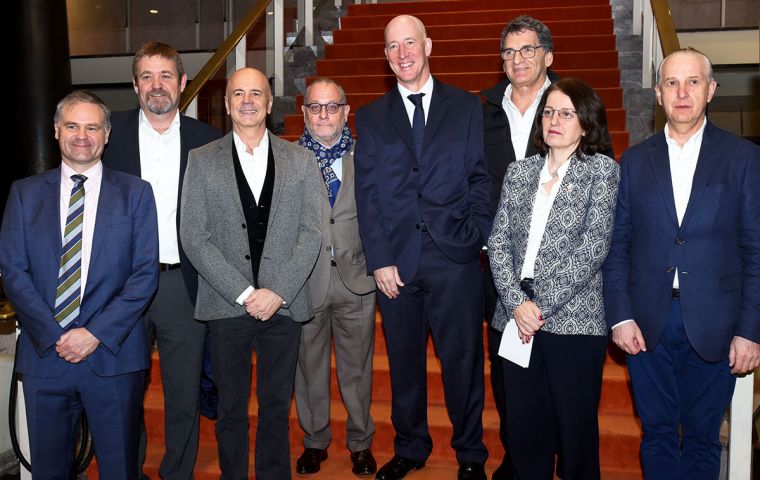 Argentine foreign minister Jorge Faurie and British Ambassador Mark Kent attended on Sunday evening the San Martin Theatre for the last performance of "Mined Field", a project written and directed by Lola Arias and which brings together six Argentine and British veterans from the South Atlantic conflict.
According to a report from the Foreign Ministry, the play, set in a filming studio converted into a time machine, the veterans transport themselves to the past to reconstruct their memories of the 1982 war and lives following the conflict.
The play went on stage for the first time at the Brighton Festival in England with great success and later toured Germany, while it was first played in Buenos Aires in 2016.
Currently it is part of the British theatre season in the Buenos Aires Theatre Complex as a co-production of UNSAM, LIFT, Royal Court Theatre, Brighton Festival and other entities linked to cultural activities.
According to the official release the play looks into the meaning of "veteran" and confronts different visions of the conflict, bringing old enemies together to tell the same story while examining the scars of the war, linking experience with fiction and the innumerable ways of representing memory"
The play "has helped to connect both sides in the Falklands/Malvinas conflict, bringing veterans together to work as a team and collaborate in the making of the play exploring their memories some thirty years later"
During Sunday's performance minister Faurie and ambassador Kent were accompanied by Argentina's Human Rights Secretary, Claudio Avruj, the head of cultural affairs from the Argentine foreign ministry, Sergio Baur and Jorge Teleram, director of the Buenos Aires Theatre Complex.
In related news on Tuesday the Argentine Human Rights Secretariat, during a special ceremony, will reveal the name of the one hundredth combatant, whose remains rest at the Argentine military cemetery close Darwin, Falklands, and have been identified as part to the Humanitarian Plan implemented by Argentina, UK, Falklands and the International Committee of the Red Cross.