Argentina names 100th combatant buried in the Falklands; two graves mystery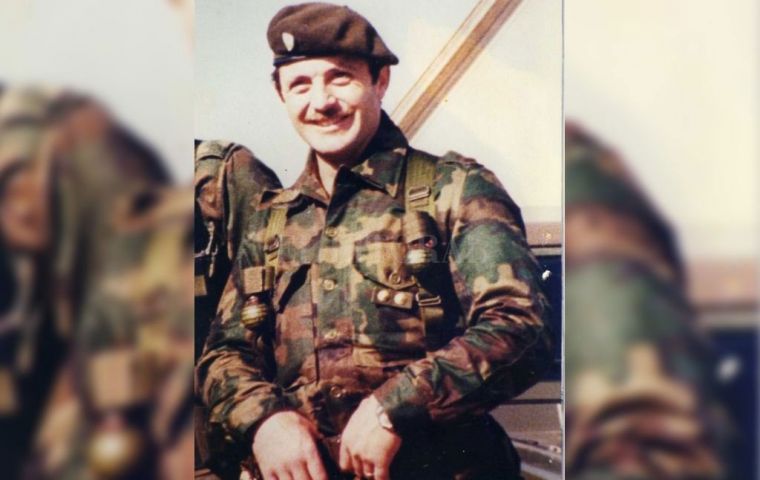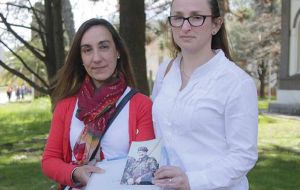 Argentina's Human Rights Secretary announced on Tuesday the full name of the 100th combatant fallen during the 1982 South Atlantic conflict and whose remains are buried at the Argentine military cemetery in the Falkland Islands, where for over 36 years they remained unidentified with only a white cross and a black marble tombstone reading, "Argentine soldier, only known to God".
Second Lieutenant Ruben Eduardo Marquez, post mortem Captain, was born in Coronda, the province of Santa Fe in July 1952, and died in combat on 30 May 1982, at Bluff Cove, close to Mount Kent, during an exploration patrol that came across a team of British SAS. He fell next to Sergeant Oscar Humberto Blas. Marquez had attended the General Belgrano Military High School and was a full time military, belonging to Commandoes Company 602.
According to Claudio Avruj, Human Rights Secretary, Lieutenant Marquez and Sergeant Blas remains were unknowingly buried in neighboring graves, at the Argentine military cemetery at Darwin, both as unidentified. However Blas remains were identified before since Marquez had no children and no close relatives, except for nieces, Lorna and Victoria who helped with the DNA sampling testing, but the process involved more time.
"Uncle Ruben was born and died doing what he always wanted: serving country and flag", said Lorna Marquez holding a picture of her uncle in full military uniform.
However Lorna also remembers her grandmother, Elda, who died ten years ago, but never ceased to try and find where the remains of her lost son had been buried. That is how in 1998, Granny Elda travelled to the Falklands, with a sister of Blas, and visited the Argentine military cemetery, where be it by miracle or chance had a picture taken of her kneeling next to two graves, which twenty years later proved to be the tombs of her beloved son Ruben, and fellow combatant Blas.
But even more mysterious is why she picked the two graves, a story she would repeat to her grandchildren. While in the Falklands, someone left her an anonymous piece of paper telling her that Marquez and Blas had been buried in graves 9 and 10 of sector B of the cemetery.
"We never knew who left that message, but granny Elda was convinced it was true. We never believed the story", said Lorna, adding with tears in her eyes, "now granny can rest in peace, she spent all her life looking for her son, but now we can tell granny where uncle Ruben is buried with a tombstone with his full name".
And in effect the Human Rights Secretariat confirmed to the family that Ruben Marquez was buried in grave 10, fifth row of sector B, next to grave 9, with the remains of Blas. Lorna and the Marquez family revealed that they were encouraged with the possible identification of Uncle Ruben, when at the end of last year, the Secretariat confirmed that Blas remains had been identified and were buried in grave 9 of Sector B.
Genetic data for DNA sampling of the nieces Lorna and Victoria took longer, but anyhow Lorna was included among the 248 next of kin that travelled to the Falklands last March, for a day of mourning and praying for the 90 combatants that had been identified so far.
"I prayed at grave 10, fifth row of sector B, and now I know I wasn't wrong", confesses Lorna. Since March another ten DNA tests have proved positive and 21 of the original 122 unidentified are still waiting for a full name in the black marble tombstones.
"The testing of genetic samples won't be finished until we have the names of all the Argentine soldiers buried at Darwin", pledged Secretary Avruj during the ceremony for Captain post mortem Marquez and his family, and other relatives of Malvinas families.
The identification process of remains at the Argentine cemetery in the Falklands was agreed in December 2016 between UK, Argentina, Falklands, under the guidance of the International Red Cross and a multi discipline, multinational team of forensic experts, and comes under the name of the Humanitarian Project Plan.
Of the 237 graves at the Argentine military cemetery, the Plan targeted 122 which only had a tombstone reading, "Argentine soldier, only known to God". However besides the advance of genetic science in more than three decades, it was the meticulous task of British Colonel Geoffrey Cardozo, responsible for the cemetery and the burial of Argentine combatants and remains, with the most items useful for a possible future identification, that has been decisive for such a major undertaking. This because, among other things, in the chaos of an ill planned military invasion, most Argentine conscripts not only did not have food or sufficient clothing, but not even dog tags, normal to any military organization.
At the end of the ceremony Secretary Avruj was grateful for the attendance of Malvinas families, and media coverage, and expressed the satisfaction of his office for being able to help families with their healing processes. He also announced that next 21/22 November the Red Cross will be holding a special meeting and invite Malvinas families to share their experience with other humanitarian projects emerging from other war conflicts.
Avruj also revealed that the Humanitarian project Plan could be extended in time and purpose to the other graves at the Argentine military cemetery, since there are claims that not all names correspond and possibly in some, more than one body has been buried.