"My flag is the union of the Brazilian people, defend the family and combat violence", pledges Bolsonaro
Friday, October 5th 2018 - 09:22 UTC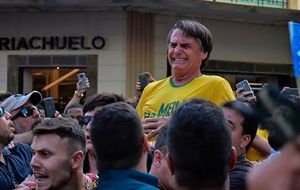 Jair Bolsonaro, Brazilian extreme right presidential candidate is leading in opinion polls and also has good strategists. On prime time Thursday when the seventh and last debate of presidential candidates, which he did not attend on medical recommendations, Bolsonaro had a long interview aired at the same time, at his home, in which contrary to his firebrand rhetoric he transmitted a clearly conciliatory message.
During the interview with the O'Globo network, Bolsonaro said his medical condition had improved following the stabbing attack during a political rally a month ago, but on doctors instructions he was strongly recommended not to attend the presidential debate.
"I was reborn following the stabbing attack in Juiz de Fora, and I must thank the doctors" which first cared for me and later at the Albert Einstein hospital in Sao Paulo, where he was flown in critical condition.
With nurses looking after Bolsonaro suggesting two breaks in the long interview, and speaking with a fragile voice, the former army captain said he wants "to unite the Brazilian people", and, "I have always preached for unity", but groups inside left wing parties have promoted hatred and pretended to divide the people.
Bolsonaro accused the Workers Party (of ex president Lula da Silva) during thirteen years in government, of promoting class division, and "they also accuse me of feeding hatred, but how come who was stabbed was me".
When asked about spreading fake news, as he was accused by his main rival Fernando Haddad, Bolsonaro insisted his campaign only supplies social networks with the truth, and true events. "I have millions of followers and I can't control when one or a couple of them fall into that trap. We do not release fake news, check our social networks, no fake news or lies", insisted the right wing candidate.
On the income tax controversy with his leading financial and fiscal advisor, US educated Paulo Guedes, who proposed an only 20% flat tax for all contributors, Bolsonaro admitted an understanding problem but blamed his adversaries for wrongly interpreting his proposal.
"Whoever makes 5.000 Reais (approx US$ 1.300 a month) will not pay income tax, and above that, the rate will be flat and 20%. Which means that for the entrepreneurs the rate is also going to diminish".
As to the criminal investigation regarding the stabbing he suffered in Juiz de Fora, Bolsonaro said he does not want "to press" the investigation or blame any ideological group or party, but nevertheless questioned the man who is leading the investigation.
"The investigation is being conducted by a delegate who was one of the most trusted men of Fernando Pimentel". (It is significant since Pimentel held several ministerial posts with Lula da Silva and Dilma Rousseff and is running as PT candidate for governor of Minas Gerais).
More specifically on the campaign, Bolsonaro said that a PT victory this year would mean "the end of our fatherland" and a return of corruption to the Planalto Palace (seat of the Executive). However if he is defeated he will respect and abide by election results.
However, "we can't let a party which sunk Brazil in its deepest ethical, moral and economic crisis return to office with the same names. And you can easily see that all is being conducted by Mr. Lula, from jail for corruption, giving instructions to a puppet by the name of Haddad, whose incompetence prevented him from going to the runoff in the Sao Paulo election", in reference to the 2016 election, when Haddad was defeated in this attempt to be reelected as mayor of Sao Paulo City and only managed 16.9% of votes cast.
Bolsonato admits that a victory in the first round next Sunday is not that easy but is confident he can defeat a runoff with Fernando Haddad, at the end of October.
Asked about the accusations of homophobic, racism and macho, the lawmaker said they are not true and are used by his political adversaries since they can't blame him for any corruption deed. As to the women's movement, hash-tag EleNao (not Him), which convened thousands of women in the streets of Brazil's main cities, Bolsonaro said it had a contrary effect: following on that his vote intention polls started to grow, because "voters are really coming to know who I am"
"Is it possible that I'm that bad? That I want the worst for women, negroes and gays? That simply is not true. I always wanted the union of all Brazilians. I'm not that bad, it's the left that has divided us and left us fighting, squabbling among ourselves".
"My flag contrary to what they accuse me off, is to unite Brazilians, defend the family and combat violence. I propose the unity of the Brazilian people while the left has always tried to disunite us", insisted the candidate. Finally "I promise I will be a soldier at the service of Brazil" and "I can assure you my ministerial team will be chosen with no political interference".