Peso devaluation to affect Argentine households retroactively
Saturday, October 6th 2018 - 09:10 UTC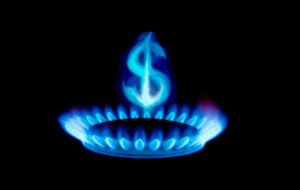 Argentina's government Friday allowed home gas suppliers to charge extra as of January 2019 to make up for the recent devaluation of the peso against the US dollar.
Barely five days after the last gas tariff 35% hike, the Energy Ministry gave the green light to a new increase to be paid in 24 monthly installments for gas supplied between April and September at a lower exchange ($ 20.34 / U$ 1) rate, which affects gas distributors payments to oil companies.
It remains unclear whether customers will have to bear the cost of the devaluation or if they will also be charged for the interests derived from that debt.
Resolution 20/18 published Friday in the Official Gazette mentions "... temporarily and extraordinarily, for the differences between the price of the gas provided in the contracts and the price of gas recognized in the final tariffs of the service providers of distribution, valued by the volume of gas purchased from the April 1 and until September 30, 2018, the National Gas Regulatory Entity (ENARGAS) will instruct the providers of the distribution service to the recovery of the credit in favour of the online producers separated in the bill of their users, in twenty-four (24) payments as of January 1, 2019."
Another increase in gas tariffs is already planned for April next year.