Montserrat Caballé laid to rest next to her parents in Barcelona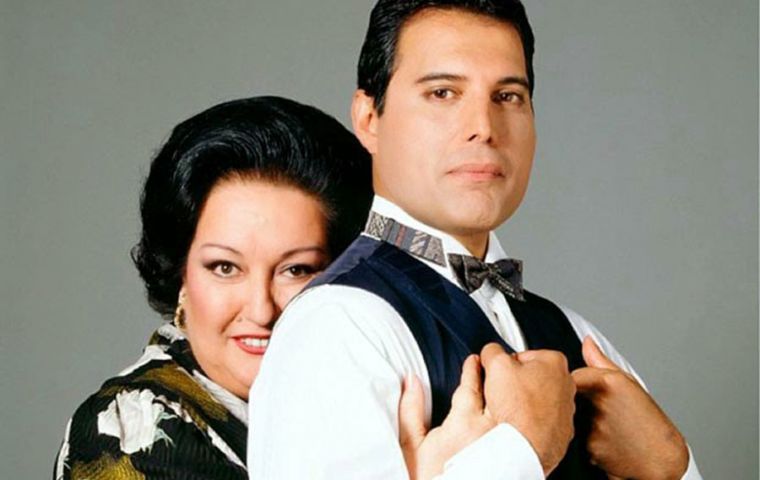 Spain's Queen Mother Sophia, Prime Minister Pedro Sánchez and music celebrities gathered Monday at the Les Corts mortuary facilities for a religious ceremony to pay their last respects to Opera legend Montserrat Caballé, the Spanish soprano who died Saturday aged 85 at a hospital in her native Barcelona.
Maria de Montserrat Viviana Concepción Caballé i Folch was buried next to her parents at the Sant Andreu cemetery.
"A perfect funeral in every way, although I have missed, without wanting to create controversy, a little more Catalan," said tenor Josep Carreras after the ceremony was officiated only in Spanish. "She was like an older sister to me," he added.
Caballé was hailed as one of the greatest opera singers of the 20th century and certainly the greatest soprano since Maria Callas, but she transcended opera circles when she duetted with Freddie Mercury in the late 80s.
Beginning in the 1950s, Caballé gave thousands of performances and made more than 80 recordings – famously including one with Freddie Mercury. She had an immense repertoire, performing leading operatic roles in several languages.
Caballé was at ease with the 18th century music of Handel and Mozart; the German operas of Richard Wagner and Richard Strauss; and 20th century works by Stravinsky, Prokofiev and Berg. She was best-known, however, for her lyrical singing in the 19th century Italian bel canto tradition, including works by such composers as Bellini, Donizetti and Puccini.
After a decade of performing in Europe and Mexico, Caballé made her US debut on 20 April 1965, substituting for Marilyn Horne in a concert performance of Donizetti's Lucrezia Borgia. She became a regular at New York's Metropolitan Opera and other leading opera houses and concert halls around the world.
Caballé took on most of the leading roles for sopranos, including Puccini's Tosca, Mimi in Puccini's La Boheme, Violetta in Verdi's La Traviata and her favourite, Richard Strauss's Salome. She stayed in excellent vocal form well into her fifties and beyond, despite her habit – somewhat shocking for a singer – of smoking more than a pack of cigarettes a day at the height of her career.
In concerts and recitals, Caballé broadened her repertoire to include Spanish songs, obscure operatic arias and occasionally duets with other singers, including her husband, tenor Bernabé Martí.
One of her most unlikely singing partners was Mercury, the flamboyant lead vocalist of Queen who idolised Caballé and often attended her performances. Their 1988 album Barcelona hit the pop charts before Mercury's death in 1991. For years afterward, Caballé wore a red ribbon during her concerts to show her support for Aids research.
In 1957, Caballé appeared in her first opera, La Boheme, in Basel, Switzerland, where she was based for three years. She then joined an opera company in Bremen, Germany, where – in a single week – she was in five wildly different operas: Bedrich Smetana's The Bartered Bride, La Traviata, Tosca, Salome and Die Fledermaus by Johann Strauss II.
She met Martí while both were in a production of Madame Butterfly, and they were married in 1964. In addition to her husband, survivors include two children.