"Clouds on the horizon" warns IMF in its world economic outlook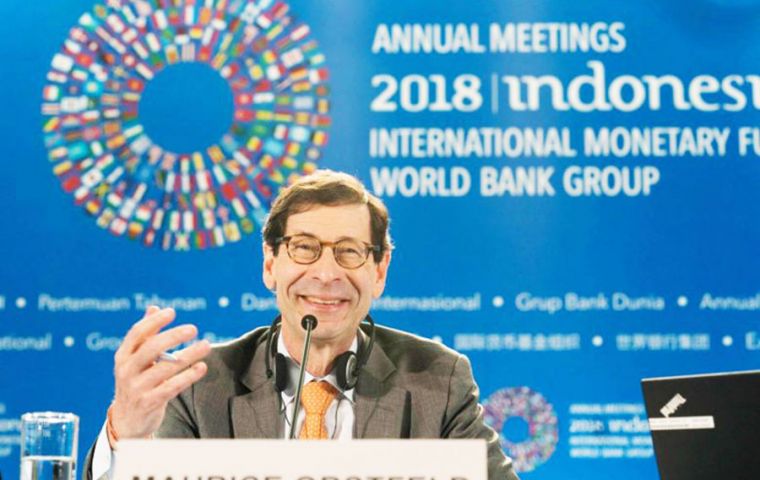 The International Monetary Fund has cut its forecast for global growth as trade tensions intensify and currency and other woes impact emerging economies. The global lender projects that the world economy will expand by 3.7% this year and next, 0.2 percentage point lower than its previous forecast six months ago.
IMF chief economist Maurice Obstfeld said at the launch of its World Economic Outlook on Tuesday that due to recent developments, this past projection has proven to be "over-optimistic".
"There are clouds on the horizon," he said. "Growth has proven to be less balanced than we had hoped."
The IMF, which with the World Bank is holding its annual meetings in Bali this week, cited escalating tensions between the world's two largest economies over trade tariffs, slower export growth in the euro zone, higher oil prices, and China's regulatory tightening in its property and financial sectors as factors hampering global growth.
The United States has imposed tariffs on US$200 billion worth of imports from China, attracting retaliatory tariffs from China in return.
The IMF had earlier estimated that escalating tit-for-tat tariffs could lower global output by more than 0.8% by 2020. The two economies at the heart of the tariff fight are expected to feel the pain.
The IMF expects the US economy to grow by 2.9% and China's by 6.6% this year. But it said that both would slow down more than earlier envisaged, and see growth of just 2.5% and 6.2%, respectively, next year.
This would mark China's weakest growth since 1990 and the impact could be harsher - a decline of 1 percentage point or more - if a worst-case trade war scenario were to materialize. But there is room to be upbeat, the IMF said, citing favorable projections for emerging economies in Asia and Europe.
Meanwhile, Dr Obstfeld is concerned that several economies have adopted policies that are "unsustainable over the longer term" to boost growth. The US has also raised its key interest rates several times since 2016.
"Broadly speaking, we see signs of lower investment and manufacturing, coupled with weaker trade growth," Dr Obstfeld said. He called on countries to ensure inclusive growth, which he said was "more important than ever".
Such growth can be supported by a multilateral approach to politics and policies, he added.
Detailed forecasts on specific regions are also set to be launched this week, when 34,000 participants from 189 countries gather to discuss key issues from financial inclusion to human development.