Gold medal of 1930 Uruguay world football champion keeper to be auctioned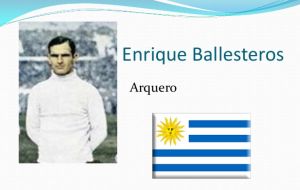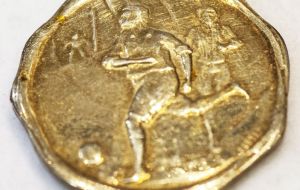 The gold medal belonging to Uruguay's 1930 goalkeeper Enrique Ballesteros is set to draw the spotlight Wednesday at Montevideo's Bavastro auction house.
An original handwritten signature of Walt Disney and a first edition of the Uruguayan Constitution of 1830 will also be included together with hundreds of other rare antiques.
Over 600 lots will be made available for bidding at Montevideo's Bavastro auction house. Ballesteros' medal is considered a unique piece which can draw collectors from all over the world.
Ballesteros wore the Celestes' jersey to their 1930 World Cup title on home soil and again in 1935 at the South American Championship in Lima.
Next to this piece also stands out the medal of the 75 anniversary of Real Madrid, that was celebrated in 1977 in the Santiago Bernabeu stadium.
Host José Bavastro explained that 90 percent of the items on auction belong to the same person, who inherited modt of them and later expanded the collection with no particular topic. Hence the assortment from toys to historical books.
This will be the second part of the auction of this large collection, since the first was made in 2017 and had, according to Bavastro, very good results.
"As everything that is finished is so different, there is an audience for all kinds of merchandise," he said.
Each corner of the auction house has hundreds of articles with decades of history, many of them of great importance at a national level, such as a first edition of the Constitution of Uruguay, or a book of the early twentieth century with the faces of the main political figures of the time, and even pennants and other objects of the two most important teams in the country, Nacional and Peñarol.
Also, Bavastro highlighted as a "very important" object a poster of the day when Walt Disney visited Uruguay to present his film "Fantasia", in 1941, signed by the artist and businessman himself.