Bolsonaro's chief economic advisor under investigation over fraud accusations
Thursday, October 11th 2018 - 08:30 UTC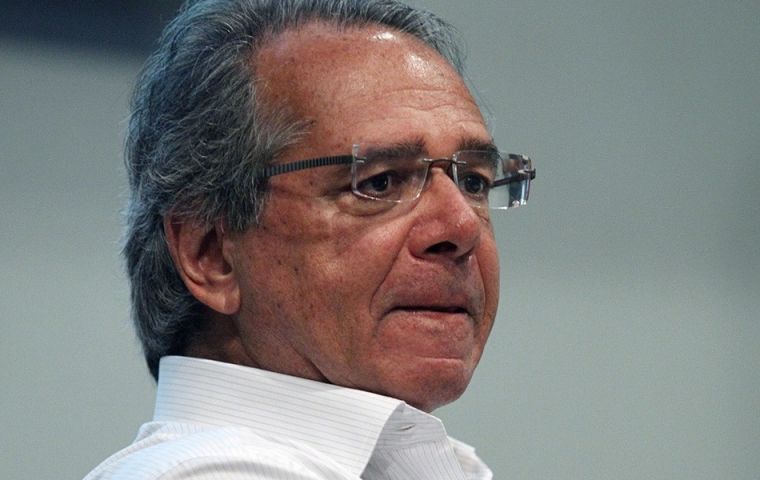 The chief economic advisor to Jair Bolsonaro, Brazil's far-right presidential front-runner, is being investigated over accusations of fraud tied to the pension funds of state-run companies, federal prosecutors revealed on Wednesday.
The investigation of Paulo Guedes, a University of Chicago-trained economist credited with nudging Bolsonaro toward market-friendly policies and tapped as his future finance minister, is the first time that a member of Bolsonaro's inner circle has been the subject of a major corruption investigation.
The case has the potential to hurt support for Bolsonaro, who has campaigned on an anti-corruption and anti-crime platform to voters tired of waves of corruption allegations against business executives and politicians.
However the president of Bolsonaro's party, Gustavo Bebbiano, said Guedes continued firmly in position as the candidate's economic guru despite the probe.
Lawyers for Guedes said the investigation was based on false allegations in the midst of the election "with the principal objective of confusing voters" in what they called "an affront to democracy."
The probe was first reported by the Folha de S.Paulo newspaper. It alleges Guedes mismanaged 1 billion reais (US$ 267 million) that public pension funds put in his investment vehicles starting in 2009.
Through his attorney, Guedes denied any wrongdoing and said the investments in question had yielded returns above contractually established targets, offering to provide all documentation needed to clear up the matter.
Previ, one of the public pension funds involved, said it had received above-target returns from its investment in a fund cited in the case, and a subsequent audit found nothing amiss.
Bolsonaro, who met Guedes for the first time last year, is not accused of any wrongdoing.
Although Bolsonaro has praised Brazil's 1964-85 military dictatorship and consistently voted to give government more control over the economy during three decades in Congress, Guedes has convinced investors that the 63-year-old former army captain had reversed his thinking on economic policy.