Chile's finance minister defends newest, sharpest increase in fuel price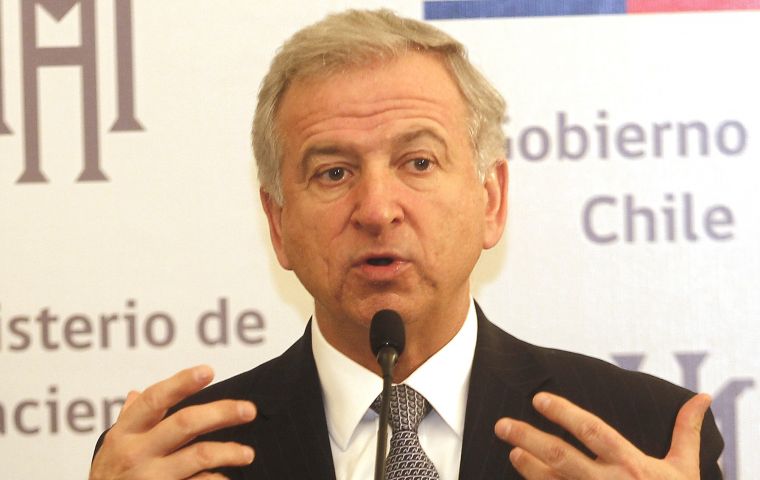 Chile's Finance Minister Felipe Larraín justified the seventh increase in as many weeks in the price of petrol because the Fuel Price Stabilization Mechanism (Mepco) has subsidized 50 million dollars so far this year.
The price of fuels rose for the seventh week in a row, and this time it was a sharper move. The 93-octane benzene went up by 5.7 pesos per liter, while the 97-octane and diesel fuel increased by 5.8 pesos.
Consecutive increases in prices during the last weeks that already increase the value of fuels near the barrier of $ 900 per liter (1.33 US dollars) in Santiago's Metropolitan Region or $ 960 in other parts of the country.
Larraín underlined that the Mepco has handed out subsidies amounting to 50 million dollars so far this year, which in his opinion, is generating a significant reduction of the specific tax.
"We are always available to see how it can work better, but we are reducing the specific tax temporarily," he said.
The existing tax on fuel is now under heavy criticism in view of the devaluation of the local currency in addition to the increase of the international price of oil.
Deputy Raúl Soto of the Christian Democrats (CD), insisted on the need for the Government to raise the possibility of lowering or even eliminating it and announce it has become a matter for parliamentarian debate. He also warned that since that tax money finances public policies, other collection niches shall be needed.
He specifically mentioned a higher fuel tax "for large companies and richer people, the capital market, the purchase and sale of shares and other types of markets that are not sufficiently regulated and that are not contributing what we would all expect from the Chilean economy."
The international price of Brent oil, which currently stands between 82 and 83 US dollars a barrel is expected to go up and even break the 100 US dollar barrier. And that too will keep the price of petrol upwards in the coming months.