International condemnation of Venezuelan government over suspicious death of elected councilor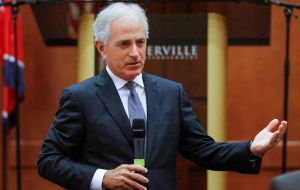 Questions and condemnation of Venezuela's leadership poured in this week following the suspicious death of an opposition councilman and activist who authorities say evaded justice by throwing himself from the 10th floor of political police headquarters' building.
The Lima Group released a statement urging the Government of Venezuela to conduct an immediate, impartial, and independent investigation to clarify the facts and circumstances that caused Fernando Albán's death.
"The group endorses its condemnation of the systematic violation of human rights and fundamental freedoms, the political persecution, and the existence of political prisoners in Venezuela," reads the statement.
The states – Argentina, Canada, Chile, Colombia, Costa Rica, Guatemala, Honduras, Mexico, Paraguay, Peru, and Saint Lucia – also reiterated their decision to make every possible diplomatic effort to restore democratic order, respect for human rights, and the full application of the rule of law in the region.
The United States government also issued a statement condemning the Maduro's regime for its alleged involvement in Albán's death. The White House called for the release of all Venezuelan political prisoners and for Maduro's government to "to re-establish democracy in Venezuela and to prevent further suffering and bloodshed," adding that US President Donald Trump's administration would continue to increase pressure over the issue.
Republican Senator Bob Corker, the chairman of the US Senate Foreign Relations Committee, called Albán's death while on government's custody "disturbing."
"The government has a responsibility to ensure all understand how that could have happened," Corker said on Twitter.
Municipal lawmaker Fernando Albán, 56, was taken into custody last Friday at Caracas' international airport upon arriving from New York, according to his lawyer, Joel García. He was in the US with other members of the opposition group Primero Justicia ("Justice First") to denounce human rights violations in Venezuela at the United Nations General Assembly.
The country's Chief Prosecutor Tarek William Saab said Albán killed himself Monday by leaping from the 10th floor of the state police agency's headquarters, where he was being held for alleged involvement in an international plot to kill Maduro using explosive-laden drones.
Speaking on state TV, Saab said Albán was in the waiting room of the headquarters of Venezuela's intelligence police waiting to be transferred to a courthouse when he asked to use the bathroom. He then threw himself from the 10th floor of the building.
But Alban's lawyer and opposition leaders denied the official version.
"Albán is a very Christian person, with deep spiritual convictions that go contrary to a decision to take one's life," replied Garcia, who said he met his client the night before the process.