David Davis calls for Cabinet to rebel against May over Brexit deal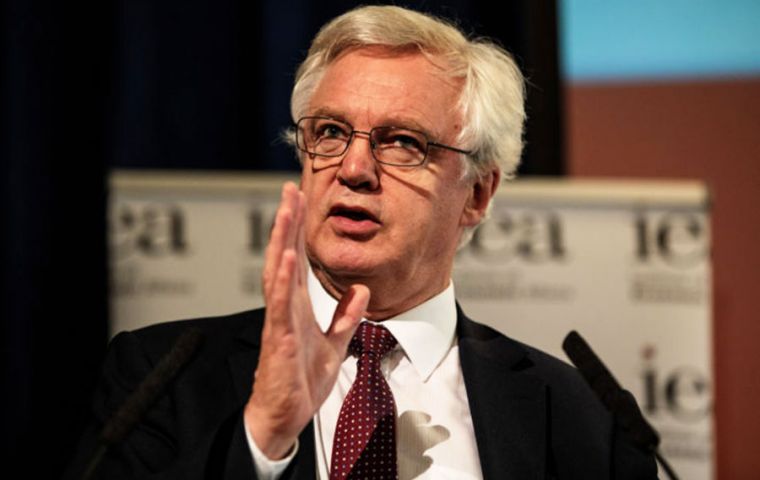 Prime Minister Theresa May's former Brexit chief negotiator David Davis Sunday wrote in a newspaper column that the entire British Cabinet should drop any plan and seek a free trade deal in the style of Canada.
Davis urged all members of May's cabinet to rebel against her proposed deal with the European Union over the terms of Britain's departure from the bloc.
The former chief negotiator wrote in the Sunday Times that May's conception of some continued ties with the EU under her Chequers plan is "completely unacceptable" and that time has come for ministers to "exert their collective authority" because "the authority of our constitution is on the line."
May is struggling to build a consensus behind her Brexit plans ahead of a cabinet meeting Tuesday that will be followed by an EU summit Wednesday in Brussels.
And for that she needs the 10 votes from Northern Ireland's Democratic Unionist Party more than ever. But DUP leader Arlene Foster warned Sunday in the Belfast Telegraph that "the DUP's actions this week are not as some have suggested about 'flexing muscle'. Anyone engaging in this in a lighthearted way foolishly fails to grasp the gravity of the decisions we will make in the coming weeks."
In other words, she is not willing to save May at any cost. And if Davis' call for a rebellion is effective, the cabinet meeting Tuesday would be a likely place for opposition to surface.
Davis and former Foreign Secretary Boris Johnson resigned from the cabinet this summer to protest May's Brexit blueprint. Both have become vocal opponents of her plan, calling it a betrayal of the Brexit vote that would leave Britain in a weakened position.
Nevertheless, a deal, even on May's terms, appears to be farther than the Prime Minister could foresee. There are still issues to be resolved in order to reach an agreement, according to the EU's chief negotiator's posting on Twitter Sunday after meeting with Davis' successor Dominic Raab.
"We met today with Dominic Raab and the British negotiating team, despite intense efforts, some key issues remain open," Barnier said on Twitter.