Latam to start serving Tel Aviv nonstop from Sao Paulo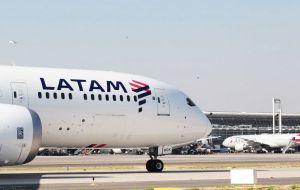 A new Latam airlines flight originating in Santiago with a stop in Sao Paulo and nonstop to Tel Aviv thereafter has been announced to start operating December 13.
It will be the first time that a South American airline offers a nonstop service to Israel. The now defunct Uruguayan airline PLUNA used to serve Tel Aviv, but after a stop in Madrid.
Latam expects to carry 65,000 passengers yearly with three weekly flights to Tel Aviv's Ben Gurion airport from Santiago's Arturo Merino Benitez terminal and then through Sao Paulo's Guarulhos.
The new service targets the many Latin American Christians who travel to the Holy Land as well as Israeli backpackers, businessmen and members of the Jewish community who have relatives in South America.
In 2017, Israel received 3.6 million tourists - 93,000 from South America, including 39,000 from Brazil, while 33,000 Brazilians have visited the country between January and September this year.