Paulo Guedes the ultra-liberal economic advisor of an ultra-populist nationalist
Tuesday, October 16th 2018 - 08:38 UTC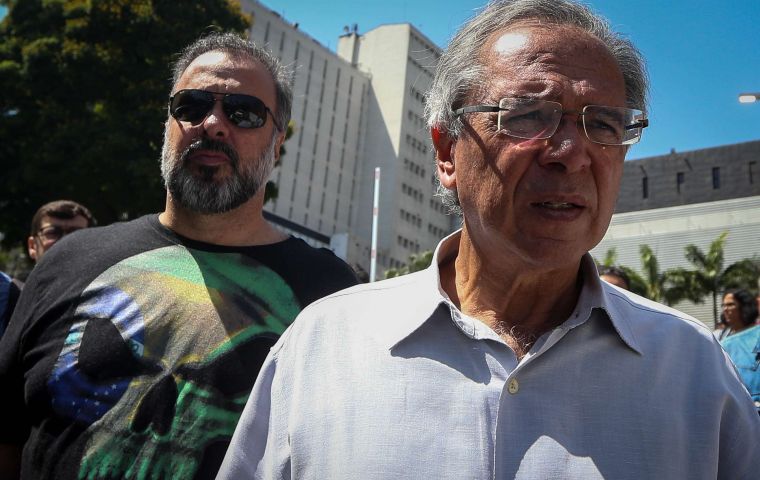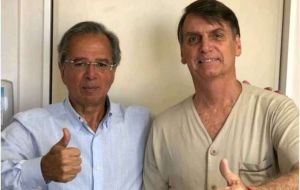 After getting out of its most severe recession in history in 2017, Brazil remains in a state of economic malaise, notching up a mere 1% of growth last year, with public debt forecast to snowball from 77% of GDP to 140% by 2030, according to the World Bank.
As Bolsonaro's future finance minister if the latter wins the second round of the presidential elections on October 28, Guedes proposes a simple solution: "Reduce public debt by 20% through privatizations and spending cuts."
This is an unsurprising approach from someone who graduated from the University of Chicago in 1979, with a doctorate in economics. At that point, Chicago's economics department – which included Milton Friedman, its most famous professor – was well-known for expounding neoliberal theory, espousing low taxes, privatization and deregulation.
The first country in which this approach took root was Chile in the 1970s, under Augusto Pinochet's 1973-1990 military dictatorship – where Guedes was a professor in the 1980s.
However, it may seem a surprising approach for the chief economic adviser to a candidate who largely endorsed corporatist, protectionist policies during his 27 years as a lawmaker. Making light of this volte-face, he told Brazilian daily O Globo: "In truth, I know nothing about the economy."
The far-right frontrunner's choice of economic counselor may also seem anomalous amid an international trend for right-wing populist politicians and movements paying lip service to social democratic policies to protect public spending.
For example in the UK, a centerpiece of the Vote Leave campaign in the 2016 Brexit referendum was the promise to take an alleged £350 million (€398 million) per week spent on British contribution to the EU and spend it on the NHS, the UK's public healthcare system.
Similarly, leader of the far-right National Rally (then National Front) Marine Le Pen made increasing welfare benefits a key plank of her 2017 French presidential election campaign, while US President Donald Trump broke with Republican neoliberal orthodoxy during the 2016 election race by repeatedly promising not to cut the Medicare and Medicaid public healthcare programs.
"One factor explaining Guedes's role is that Bolsonaro has sought and won the backing of Brazil's financial elite, who favour free-market economic policies," explained Glauber Sezerino, co-editor of the Paris-based, Brazil-focused specialist publication Autres Brésils. "It gives him an air of legitimacy," Sezerino said.
"Bolsonaro is an erratic individual with no track record, who is incapable of governing by himself," added Alfredo Saad-Filho, a Brazil specialist and professor of political economy at SOAS in London.
"So I think, in part, it represents an easy choice for him, to delegate everything to the market – to think the market can sort the economy out," Saad-Filho continued. "And the Friedman approach has an easy kind of discourse – it's common sense language; it sounds plausible until you start thinking about it."
Nevertheless, it seems that the state of the economy has been pushed to the side of public discourse by an increase in violence and a series of corruption scandals at the highest level of politics.
In 2014, the same year Brazil entered into a recession, the Operation Car Wash investigation into financial impropriety within Brazil's political and business elite was launched. Judicial authorities initially started with Petrobras, the majority state-owned oil company, but the process set off an array of other inquiries into financial crime, eventually leading to the impeachment of then centre-left President Dilma Rousseff, the imprisonment of her popular predecessor Lula da Silva, and a variety of corruption allegations enshrouding the current president, right-winger Michel Temer.
Rising violence is another issue to distract from economic policy. Brazil had a record murder rate in 2017, with more than 63,000 homicides – a rate of 175 per day.
"The economy is not an issue for a lot of people," Sezerino pointed out. "Violence and corruption are the big issues – so the country hasn't had the economic debate it needs."
But there has been some economic debate among Bolsonaro's allies. On October 10, the same day it was revealed that Guedes is under investigation in a corruption probe, the president of Bolsonaro's PSL party, Gustavo Bebianno, contradicted him on the privatization of Petrobas. "You cannot mess with [this company] because it is a state asset and has to be treated as such," Bebianno told Reuters.
In allowing his party chief to publicly overrule his chief economic adviser on this issue, "Bolsonaro may be trying to rebuild a bridge" to "an economically nationalist wing" within the military, Saad-Filho said. A former army officer himself, with an ex-general as his running mate, Bolsonaro has won significant support from Brazil's military establishment, which is enjoying a resurgent presence in the country's politics.
Yet if Bolsonaro wishes to remain popular after his widely expected victory on October 28, he may wish to follow this military faction, as opposed to Guedes, Sezerino suggested: "After the election, the kind of ultra neoliberal policies favored by Guedes would lead to decreasing investments in the public sector; the privatization of public services, including schools and hospitals; and lower salaries for public sector workers– catastrophic consequences for the people of Brazil."