Chile: eighth consecutive increase in price of fuel finally draws Piñera's attention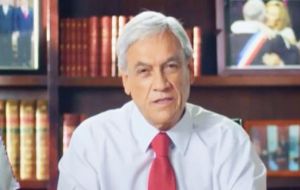 President Sebastián Piñera Thursday ordered his cabinet to seek ways to stop the trend, following the eighth increase in the price of petrol in as many weeks
Piñera said that a price stabilization mechanism had been activated and announced the study of changes that will bring prices down shortly.
Economy Minister Jose Valente explained that the president has instructed the Ministry of Finance to study modifications to the Fuel Price Stabilization Mechanism (MEPCO) and also to evaluate changes to the specific tax.
Finance Minister Felipe Larrain last week defended the mepco system but had left a door open: "We are always available to see how it can work better, but we are reducing the specific tax temporarily," he had said.
The existing tax on fuel is under heavy criticism in view of the devaluation of the local currency in addition to the increase of the international price of oil.
It is precisely a modification to the fuel tax what Deputy Gabriel Silber has in mind, according to sources from his Christian Democrat party. Silber is particularly concerned by the fact that diesel fuel has a preferential tax treatment over the benzines that are widely used by the middle class.
Deputy Raul Soto, also a Christian Democrat, called on lorry drivers to mobilise to press for a decline in the price of fuel.
Soto has been very vocal about the need for the Government to raise the possibility of lowering or even eliminating the tax and find other niches from which to obtain funding for public policies, with "large companies and richer people, the capital market, the purchase and sale of shares and other types of markets that are not sufficiently regulated and that are not contributing what we would all expect from the Chilean economy" in sight