Ecuador, Venezuela sever diplomatic ties due to improper accusations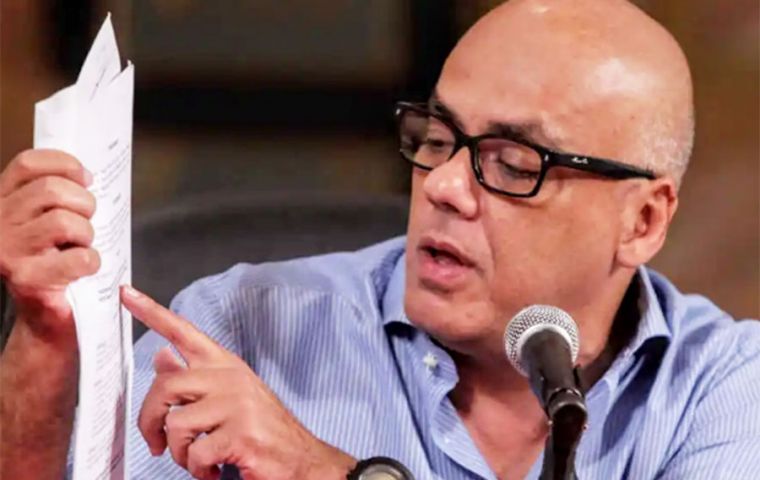 The government of President Lenin Moreno Thursday expelled Venezuela's ambassador in Quito and the Nicolás Maduro regime hit back by ordering the Ecuadorian chargé d'affairs out of Caracas. Ambassador Carol Delgado was sent back to Venezuela and Ecuador's Elizabeth Mendez was ordered to leave Caracas.
The feud came one day after two things happened: Venezuela's Propaganda Minister, Jorge Rodriguez, called Moreno a "liar" and Costa Rica said it was joining Argentina, Chile, Colombia, Paraguay, Peru and Canada in asking the International Penal Court to investigate Maduro for human rights abuses.
This is the first time since the International Criminal Court (ICC) was created in which a group of sovereign countries asks the ICC to investigate another nation.
"The Ministry of Foreign Relations and Human Mobility informs that, in the face of the offensive remarks made yesterday by the Minister of Communication and Information of the Bolivarian Republic of Venezuela, Jorge Rodriguez, against Ecuadorian President Lenin Moreno Garces, the National Government has resolved to expel from our country the Ambassador from Venezuela in Ecuador", the government said in a statement.
Ecuador pledged to continue aiding hundreds of thousands of Venezuelans who have arrived seeking refuge, some of them on foot, over the last few months, as the economic crisis in their home country has mutated into an open humanitarian crisis.
Quito estimated at least 300,000 Venezuelans fled to Ecuador, some of whom went just on through to Chile and Peru, while the United Nations has said the figure could be higher.
Venezuela and Ecuador were allies for a long time, when Chavez was in Miraflores and Rafael Correa his ideological kin in Quito. Chavez advised the younger Correa about setting up a national oil company and an oil ministry, but while Ecuador's fortunes improved subsequently, Venezuela is now mired in hyperinflation.
Relationships between the two oil-rich countries took a turn for the worse when Moreno (who was expected to continue the friendly line towards Venezuela) replaced Correa, now a wanted man and himself a refugee in Belgium, as Quito is pushing corruption charges against him.
Moreno has also denounced Maduro as authoritarian and lamented the refugee crisis that has arrived at his doorstep.
The Maduro regime is bent on denying an exodus that has been called the largest refugee crisis in the Western Hemisphere and during which some 2,6 million Venezuelans have fled the roil rich nation only since 2015.
After over a decade of closeness in times of Correa and Chávez, things took a turn when Rodriguez accused Moreno of lying at the United Nation's General Assembly as he addressed the crisis caused by the Venezuelan exodus.
After the government changeover in Ecuador, Venezuela's only allies in the region are Cuba, Bolivia and Nicaragua.
The UN estimated about 1.9 million people have left Venezuela since 2015, most to countries in the region, while Caracas has repeatedly denied the crisis.
Ecuador reports some 4,200 Venezuelans have entered its territory each day. Around 250.000 Venezuelans are now living in Ecuador.