Turkish police searching for Saudi journalist remains in outskirts of Istanbul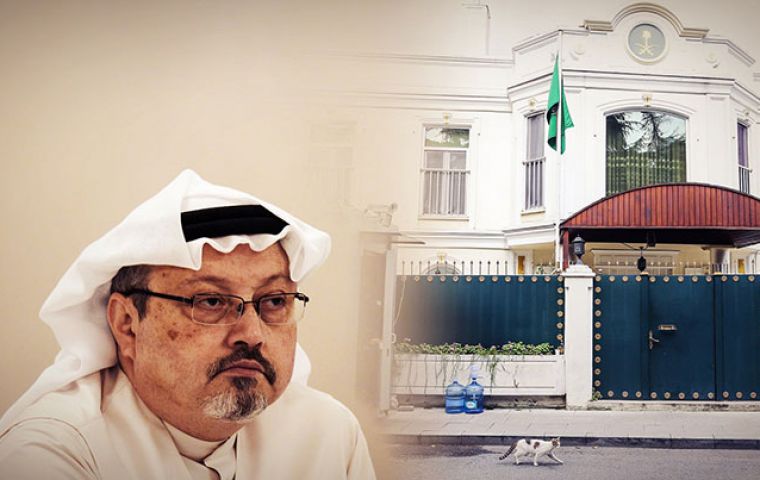 Turkish police are searching a forest on the outskirts of Istanbul and a city near the Sea of Marmara for remains of a Saudi dissident journalist who disappeared two weeks ago after entering the Saudi consulate, two Turkish officials said.
Investigators have also recovered "many samples" from their searches of the consulate and the consul's residence, the senior officials told Reuters, and will attempt to analyze those for traces of the DNA of journalist Jamal Khashoggi.
Saudi Arabia has denied allegations by Turkish officials who have said Khashoggi was killed inside the building and his body removed. His disappearance and likely death has caused an international outcry and strained relations between Saudi Arabia and the United States and European countries.
Authorities widened the geographic focus of the search after tracking the routes and stops of cars that left the Saudi consulate and the consul's residence on Oct. 2, the day Khashoggi was last seen, the senior officials said.
Khashoggi's killers may have dumped his remains in Belgrad Forest adjacent to Istanbul, and at a rural location near the city of Yalova, a 90-kilometre drive south of Istanbul, the officials said.
"The investigations led to some suspicion that his remains may be in the city of Yalova and the Belgrad forest, police have been searching these areas," one of the officials said. A "farm house or villa" may have been used for the disposal of remains, the official said.
Turkish investigators on Thursday for a second time searched the Saudi consulate where Khashoggi, a U.S. resident and Washington Post columnist who was a strong critic of Crown Prince Mohammed bin Salman, vanished. They have also searched the consul's residence.
Many samples were taken from the consulate and the residence, the official said, including soil and water. All of the samples will be taken to analyze for traces of Khashoggi's DNA.
Khashoggi went to the consulate seeking documents for his planned marriage and has not been seen since.
U.S. President Donald Trump said on Thursday he presumes Khashoggi is dead and that the U.S. response to Saudi Arabia will likely be "very severe" but that he still wanted to get to the bottom of what exactly happened.
Separately on Thursday, a senior Turkish official told ABC News that US Foreign Secretary Mike Pompeo had listened to an audio recording of the alleged journalist's killing. Turkey has previously said it has audio and video evidence of Mr Khashoggi's murder, but these have not been made public.
The incident has caused considerable strain between Riyadh and its Western allies, with US Treasury Secretary Steven Mnuchin and UK International Trade Secretary Liam Fox becoming the latest senior figures to pull out of a major investment conference in Riyadh next week.
The summit is being hosted by Saudi Crown Prince Mohamed bin Salman to promote his reform agenda. However a number of major businesses including Pepsi and EDF, are still intending to go despite growing pressure for a boycott.
Saudi Arabia is a key ally to many Western countries, especially the United States. As one of the world's biggest oil exporters, it has significant influence on the world stage.
The Dutch and French finance ministers, and the head of the International Monetary Fund, are amongst those now boycotting the summit.
On Thursday Donald Trump told reporters it "certainly looks" like Mr Khashoggi is dead, adding "it's very sad". He said there would be "very severe" consequences if Saudi Arabia was proved to have killed the journalist.
However, Mr Trump has also been accused of providing cover to the Saudi government.
Russian President Vladimir Putin has said it is a pity that Mr Khashoggi has gone missing, but that Russia cannot damage relations with Saudi Arabia without hard facts. In effect Putin told a discussion forum in the Black Sea resort of Sochi that Moscow did not really know what had happened in the case, that it was a pity that the journalist had gone missing, and that Russia would wait for details.