British submariners honour ARA San Juan crew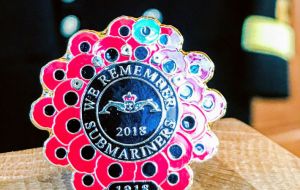 The British We Remember Submariners group, who pay tribute to "our Brothers who have sailed on Eternal Patrol over the 6 month period 1st July - 31st December 2017, along with the twenty three submarines that were lost during 1918" has made room to honour the crew of the Argentine Navy's ARA San Juan in this year's commemorative pin.
The ARA San Juan was last heard from on November 15, 2017 in the South Atlantic ocean. All 44 crew members are presumed dead.
Armistice Day, also known as "The Day of the Fallen in the United Kingdom is November 11," explained Saturday Britain's Ambassador in Buenos Aires, Mark Kent, in Spanish on Twitter.
"The symbol of the fallen is a poppy. This year the British divers added to their special insignia a sky blue poppy in tribute to the crew of #ARASanJuan," Mr. Kent added.
Mr. Kent's posting elicited quite a few thankful responses from Argentine readers, mixed with the occasional out of place comment, and criticism to Argentine authorities who have so far done nothing to honour the 44 crewmembers.
"The pin remembers the submarines lost in 1918 and submariners who have been called aloft in the last 12 months," according to @Commodore_Bob (Bob Fancy), retweeted by Mr. Kent. Those are represented by the gold poppies.
"The blue poppy commemorates the loss of Argentine submarine San Juan last year. Submariners of all nations have a close mutual respect," said Commodore Bob.