Aerolíneas Argentinas produces flight 1303 black box before judge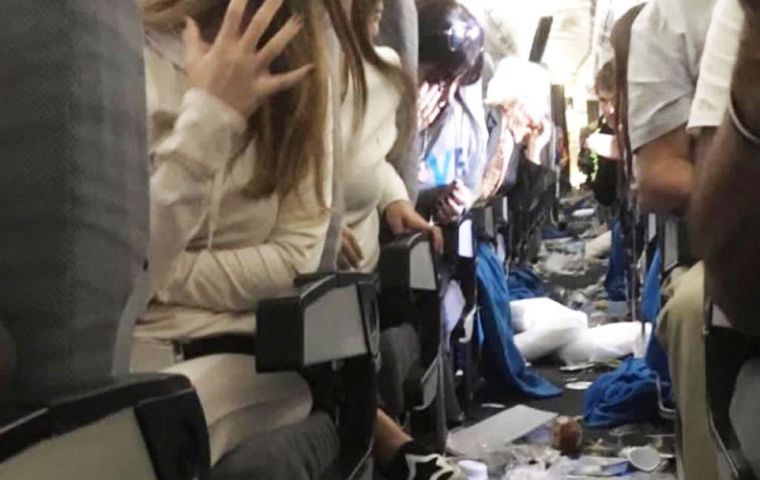 The black box of Aerolineas Argentinas' flight 1303 from Miami where 15 passengers ended up injured Thursday due to an abrupt descent as the Airbus 330-200 aircraft wound up amid severe turbulence was handed over Monday to the judge investigating the incident.
The federal magistrate from the Lomas de Zamora judiciary district (where Buenos Aires' Ezeiza airport is) is expected to be able to listen to the pilots' conversations as they approached the cloud formation that caused the incident and determine whether there was any wrongdoing on their part.
What the authorities need to determine is "if that storm was predictable or not," according to a court unnamed source quoted by the daily Clarín.
But "most likely it was a clear air turbulence," which "can not be predicted," the source added.
A "clear air turbulence" does not show on the radar and causes a sudden change in altitude. The turbulence occurs when two air masses of different temperatures or different speed collide. These can produce quick movements in the aircraft according to their intensity, although in no way do they put the aircraft at risk.
Aerolíneas Argentinas said in a statement that "once the area of turbulence was crossed, the crew in charge of the flight was dedicated to assisting the injured passengers and relieving the general state of the 192 passengers."
The incident, which took place while the aircraft was overflying Brazil not far from Bolivian skies, prompted no emergency landing at the nearest airport. The captain chose to continue to Ezeiza as scheduled, but requested medical services to be available upon landing around four hours later. Eight passengers were taken to a hospital.
Aviation experts have explained that the "A330 was in cruise at 39,000ft about 90nm (nautical miles) north of Rio Branco, in Brazil deviating around thunderstorm cells when the aircraft encountered the severe turbulence causing an altitude deviation of more than -700 feet and +1500 feet," the Aviation Herald explained.
According to the website the "ADS-B transponder reported climb rates in excess of 2200 fpm (feet per minute) and sink rates in excess of 2700 fpm."