Khashoggi murder: Top US official meets Saudi Crown Prince in Riyadh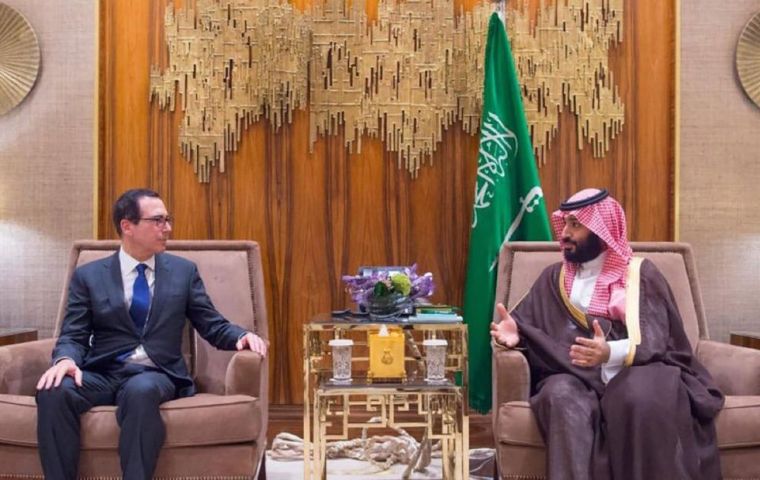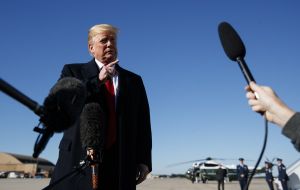 A senior US official has held talks with Saudi Arabia's crown prince in Riyadh, despite growing concern over the Saudis' role in the murder of journalist Jamal Khashoggi. US Treasury Secretary Steven Mnuchin met Mohammed bin Salman on Monday.
Turkish officials say Mr Khashoggi was murdered in the Saudi consulate in Istanbul after a visit on 2 October. Riyadh has given conflicting accounts of Mr Khashoggi's fate. It now blames a "rogue operation" for the "murder".
Turkish President Recep Tayyip Erdogan has said he will reveal the "naked truth" of the matter in parliament on Tuesday.
Saudi officials initially said Mr Khashoggi had left the consulate on the same day he visited it. Last Friday they admitted for the first time he was dead but said he had been killed in a "fist fight".
On Monday, Saudi Arabia acknowledged Mr Khashoggi had been murdered, but said the Saudi leadership had not been aware of the "rogue operation".
"We are determined to find out all the facts and we are determined to punish those who are responsible for this murder," Foreign Minister Adel al-Jubeir told Fox News.
"The individuals who did this did this outside the scope of their authority," he added. "There obviously was a tremendous mistake made, and what compounded the mistake was the attempt to try to cover up."
He said that Saudi Arabia did not know where the body was. The Saudis say they have arrested 18 people, sacked two aides of Mohammed bin Salman and set up a body, under his leadership, to reform the intelligence agency over the killing.
A Treasury Department spokesman said Mr Mnuchin and the crown prince had discussed economic and counter terrorism issues, and Mr Khashoggis' death. Saudi state media reported that they had stressed "the importance of the Saudi-US strategic partnership".
The talks were held despite the fact that Mr Mnuchin - like a number of other Western politicians and businessmen - had pulled out of a major investment forum being held in the Saudi capital this week.
President Donald Trump has pledged to "get to the bottom" of the matter - and US media reports say CIA chief Gina Haspel is on her way to Turkey to help with the investigation.
Earlier on Monday, Mr. Trump told reporters he was "not satisfied" with Riyadh's account, but added: "I don't want to lose all that investment that's been made in our country," referring to the multi-billion-dollar arms deals with Saudi Arabia.