Ten Falkland Islands tourist lodgings gain Green Seal status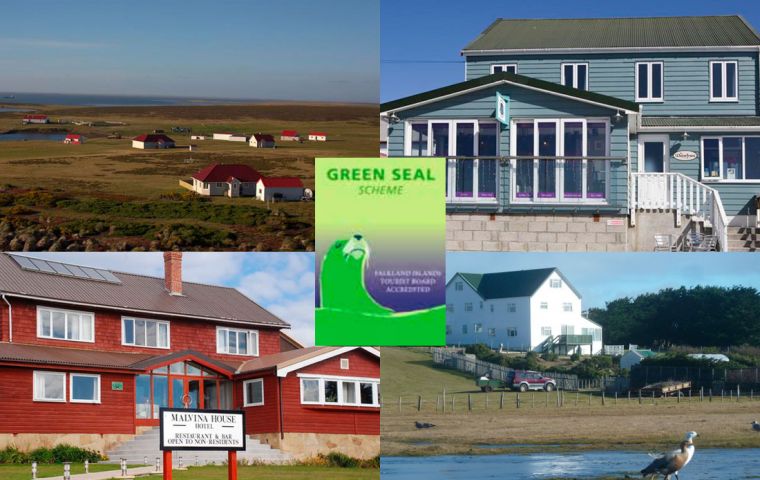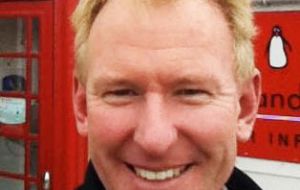 Ten tourist accommodation establishments in the Falkland Islands have been awarded 'Green Seal status', an award related to being environmentally responsible, following assessments by the Falkland Islands Tourist Board (FITB).
This week Kevin Millington spoke to Penguin News. He assisted with setting up the scheme and the recent assessments. Mr. Millington is experienced in measuring the economic impact of tourism, and has been visiting the Falklands since 2008 in support of the work of Falkland Islands Tourist Board (FITB).
He initially came to the Islands to help put in place a system of tourism statistics that would measure such things as tourist arrivals and accommodation occupancy and, through surveys, the economic impact of air and cruise visitors to the islands.
More recently he has also been involved in developing the tourism development strategy and starting up the social media marketing, including on Facebook, Twitter and blogs. He said FITB also now had, "a much more organised and broader website which includes accommodation and attractions, and which is much easier for us to update and is much more attractive.
"About five years ago we started up the accommodation grading scheme. We then rolled that out to include 20 accommodation establishments around the Falklands. We just graded 41 so that has really grown." That system examines what the accommodation offers in terms of (for example) beds and bedding, tours, food and drink.
He said that system allowed, "tourists coming in from overseas to align their expectations with what they were going to get. It saves people over promising and under delivering, and secondly, it drives standards up." He added: "And it has worked really well in both areas. There has been loads of investment in new mattresses and bedding and sprucing places up. It has been really quite rewarding seeing this"
Returning to the Green Seal Awards, he described them as "sustainability accreditation if you like. Not too dissimilar to what you see in a lot of countries." The award aims to raise awareness amongst the tourism industry in relation to helping to preserve the environment.
According to the Falkland Islands Tourist Board's press release this week it also aims to 'show to visitors that we care, and that we have a scheme in place to monitor tourism's impact on the environment; and, internally raise awareness of environmental issues within the Islands.'
Mr. Millington said "the type of tourists that come here, they look for that kind of thing… and it shows that we are aware of it and we are doing as much as we can to
be sustainable and look after the environment."
Ten establishments inspected have been awarded Green Seal status (at entry level, silver or gold). These are:
•Bleaker Island (Cassard House and Cobbs Cottage)
•Carcass Island Guest House
•Coast Ridge Cottage, Fox Bay
•Darwin House
•Lookout Lodge
•Malvina House Hotel
•The Pale Maiden B&B
•Pebble Island Lodge
•Racepoint Farm Cottage
•Waterfront Boutique Hotel
There has also been interest from cruise ship shore excursions operators and Bluff Cove Lagoon has been the first of these to be assessed and awarded Green Seal status.
But how does it work?
Well businesses are assessed for their level of environmental awareness and sustainability against a number of criteria, including energy, waste management, water conservation, food and self-sufficiency, and purchasing practices. They are also required to record the use of resource (diesel, electricity, water,) on an on-going basis. Based on the assessment they are awarded Member (entry level), Silver or Gold status.
An example of using less plastic, said Mr. Millington, "is where people are making lunches for tourists using paper or sandwich boxes that can be re-used. Just little things but it all cuts down on waste."
FITB Executive Director Steph Middleton explained: "Overall, businesses have scored highly, with several examples of innovative green practices in place. However there are areas, such as waste management, where they are restricted by the facilities available to them. On the whole, businesses in camp have a greater awareness of their responsibility to the environment than those in Stanley. "FITB hopes that the success of the scheme will encourage other businesses to join when they conduct inspections in a year's time, at the beginning of the 2019-2020 season."
Mr. Millington said: "Everywhere we have done the inspection they have been, apart from one entry level, at least silver or gold, so we are doing more here than in a lot of other countries; it just needs to be recognised. But there of course there is some more
we can do."
Racepoint Farm
Speaking from Racepoint Farm, one of the establishments awarded gold, Michelle Jones explained to Penguin News that they did a number of small things to contribute to being environmentally friendly. "We use low energy LED light bulbs, pack lunches in re usable containers and recycle bags."
Michelle also put an extra bin in the self catering so that certain types of rubbish can be taken and burnt. "I'm going to put more bins for bottles and tin."
Also like many Falklands farms, for its main source of energy the farm functions on wind power, "and Kevin checked that we are using low energy burners." (Penguin News).