Uruguay expects 172 calls this 2018/19 cruise season, a 24% increase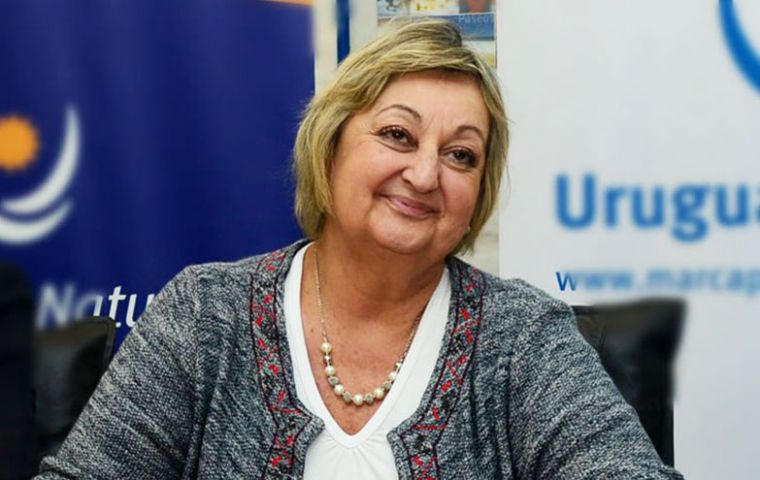 Uruguay is expecting 172 cruise calls this season, of which 105 in Montevideo and 67 in the Atlantic resort of Punta del Este, representing a 24% increase over the 2017/2018 season. This includes the arrival of three new cruise companies, while two others, Costa and Norwegian have chosen Montevideo for the change of passengers.
Tourism minister Liliam Kechichian made the announcement during a regional encounter of the cruise industry held in Montevideo underlining the significance of Mercosur countries and associates to ensure the region is effectively positioned in the global tourism map.
"This is Mercosur business, ...nobody is going to come only to Montevideo, or only to Buenos Aires, or only to Rio do Janeiro or only to Viña del Mar, this is a typical activity where we all need ourselves, a head focused on Mercosur, and even a little more is absolutely essential for the cruise industry", underlines Kechichian.
"Thus the significance of a good regional coordination, reliable and transparent, since cruise companies program their activities with two/three years anticipation".
Kechichian recalled that global tourism is a steady growing activity since last year more than 1.3bn people travelled overseas, a 7% increase over the previous year and a new tourism world record.
Likewise and according to the Cruise Lines International Association last year 26.7 million chose cruise tourism, and this year the number is expected to reach 28 million or even more.
Kechichian also pointed out that fortunately Uruguay's performance as a highly friendly cruise itinerary is a fact with modern ports, and thousands of tourists satisfied with the quality of services, different tours and experiences, security and very warm and receptive locals.
"We have stats and opinion polls supporting the satisfaction of cruise visitors, the fact that some of them return, with their families with plans for a longer stay, and in some cases they even buy properties", said Kechichian.
The reviews show that 72% expressed satisfaction with their time in Uruguay and some 28% had some objections. Likewise 67% of cruise passengers were first time visitors to Uruguay, 13% second time, and 8% third time.
However the minister also admitted that the region has seen its share of the cruise market decrease, as a consequence of other destinations, and a fiercer competition.
Nevertheless Mercosur ports have consolidated for the cruise industry, and have become crucial for any cruise in Latin America, but "we must continue to work jointly, in all countries in the region, and we should consider attending the industry's annual international forums as an only region instead of the countries setting up on their own stands"
During the 2017/18, Uruguay received some 242.000 cruise visitors, which confirmed the steady declination since the 2013/14 peak of 409.000 .