Argentine foreign minister in political and business visit to United Kingdom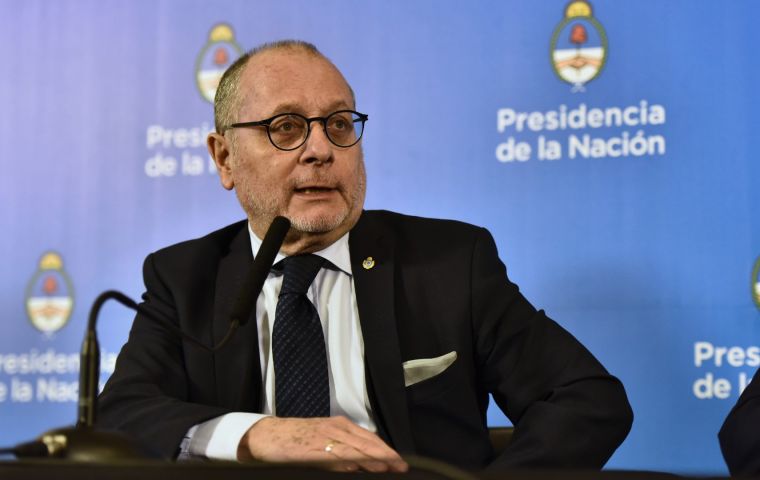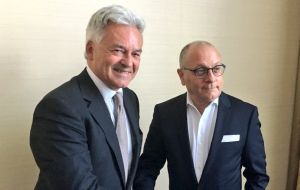 Argentine foreign minister Jorge Faurie will be visiting the United Kingdom this week where he is scheduled to address an important political and economic agenda, meetings with top level British officials and a conference on Latin America at Chatham House.
The trip begins this Wednesday morning with a bilateral meeting with Foreign Secretary Jeremy Hunt, followed by a work lunch with members of parliament. Some of them are scheduled to attend the G20 Parliament Forum meeting that will take place in Buenos Aires next 31 October.
On Thursday, minister Faurie will participate at Chatham House, the Royal Institute of International Affairs, in a debate forum that will address, "Economic, political and social change in Latin America". Also attending the meeting will be Sir Alan Duncan, Foreign Office minister for Europe and the Americas, with whom Faurie will be holding a bilateral meeting.
At Chatham House the debate will center on political and socioeconomic prospects of the Latin American region in a context of structural changes and reforms, as well as common challenges faced by leaders of the region.
While in London, minister Faurie will also meet with Argentine students on scholarships in UK universities and has scheduled interviews with British media.
It must be remembered that Sir Alan Duncan was in Buenos Aires in September 2016 when the two countries signed a communiqué reflecting the improved and constructive relations in several fields, including a chapter on the South Atlantic.
In this context it was agreed to take the appropriate measures to remove all obstacles limiting the economic growth and sustainable development of the Falkland Islands, including in trade, fishing, shipping and hydrocarbons.
It was further agreed that air links between the Falklands and third countries would be established. In this context they agreed the establishment of 2 additional stops per month in mainland Argentina, one in each direction. In follow up meetings and feasibility assessments a tentative date of October 2018 for a first flight was considered.
Both delegations also expressed their full support for a DNA identification process in respect of unknown Argentine soldiers buried in the Darwin cemetery. This has been accomplished most successfully under the guidance of the International Committee of the Red Cross (ICRC) with 101 remains of 121 graves fully identified.