Falkland appoints new Officer Commanding the Islands' Defense Force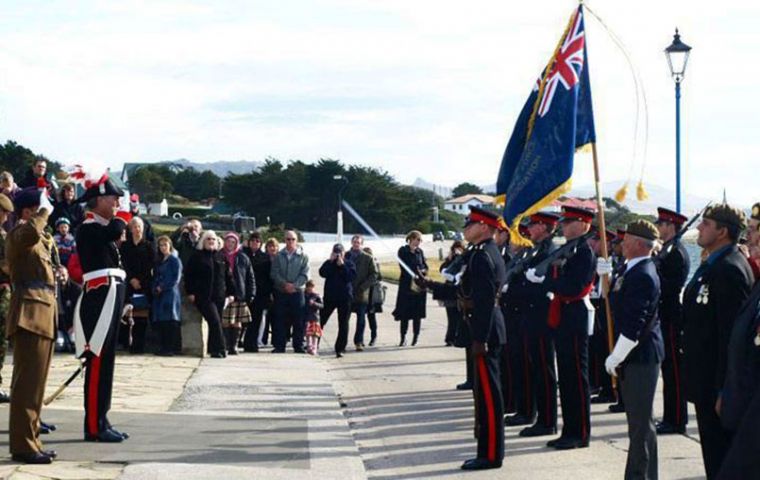 After 35 years' service with the FIDF, Major Peter Biggs will shortly retire as Officer Commanding, Falkland Islands Defense Force (FIDF), a role he has fulfilled for over 16 years.
Following a recent recruitment campaign which, in addition to local applicants, attracted interest from the UK and other Commonwealth countries, Captain Justin McPhee of the FIDF was selected as the next Officer Commanding for the volunteer defense force and will replace Major Biggs upon his retirement late this year.
Speaking of Captain McPhee's appointment, Governor Nigel Phillips said: "The commitment that Major Biggs has shown to the FIDF since he first joined the force in 1983 speaks for itself. We are incredibly grateful for his contribution during that time, he will be remembered for his hard work and dedication, and I wish him a very happy retirement.
"This is an exciting time for the FIDF and Captain McPhee will be responsible for taking forward the plans that have been developed over the past 12 months, to shape the future of the force. I am extremely pleased that we have been able to secure an officer with Captain McPhee's drive and enthusiasm as the next OC FIDF, I am sure that he will do an excellent job."
Elected Member of the Legislative Assembly, MLA, Leona Roberts, portfolio lead for Environment and Public Protection added: "I would like to extend my congratulations to Captain McPhee on his appointment. As the fourth generation of his family to serve with the FIDF, I am confident that on taking up his new post Captain McPhee will continue to drive forward the ambitious improvement plans that are already underway and which underpin the importance of the force as an integral part of the Falkland Islands' local defense services." (Penguin News).