Juncker wants Venezuelan "dictator" Maduro brought to justice as international pressure mounts
Friday, October 26th 2018 - 09:52 UTC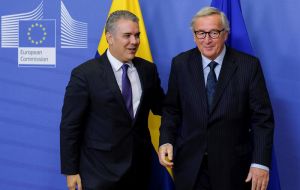 European Union (EU) Commission President Jean-Claude Juncker Wednesday Wednesday said Venezuelan ruler Nicolás Maduro has become "a matter for the international justice system" and needs to "be brought before the courts."
Juncker made those statements after meeting in Brussels with Colombian President Ivan Duque, whom he praised for his country's role in the humanitarian crisis.
"We do not like this dictatorship," Juncker added.
The former Luxembourg Prime Minister's words came one day after Organization of American States (OAS) Secretary General Luis Almagro was quoted as saying in Miami that "the drive of the protest ... was lost by an international community that did not back up that immense citizen effort."
"We are in debt to Venezuela," Almagro allegedly admitted. "It's time to recognise our faults" because "the international community induced the Venezuelan opposition to accept a dialogue at the best moment that the Venezuelan people had built for their freedom," he added.
Almagro Wednesday posted on Twitter: "We value the words of @JunckerEU and @EU_Commission. We have to keep joining forces to take #Venezuela's dictators to the (International Criminal) Court."
Asked about foreign intervention in Venezuela, Juncker conceded the EU was determined to "isolate the dictatorship of Mr. Maduro."
The EU imposed sanctions against Venezuela in the last year for undermining "democracy, the rule of law and human rights" and keeping "the country mired in a political, economic and humanitarian crisis."
Almagro went a step further as he recognised that all the tools were available to fight and depose "organized crime represented in regimes like Venezuela's" and warned that "not to do so is to boost the discouragement of a society ... that is frustrated and desolated by the lack of justice."
Duque vowed in Brussels "to continue denouncing the abuses of the dictatorship in Venezuela."
In Washington, the White House has reportedly opened a round of consultations among its allies to bring the Maduro regime to an end.