Attack on Venezuelan opposition leader said to be slow-motion assassination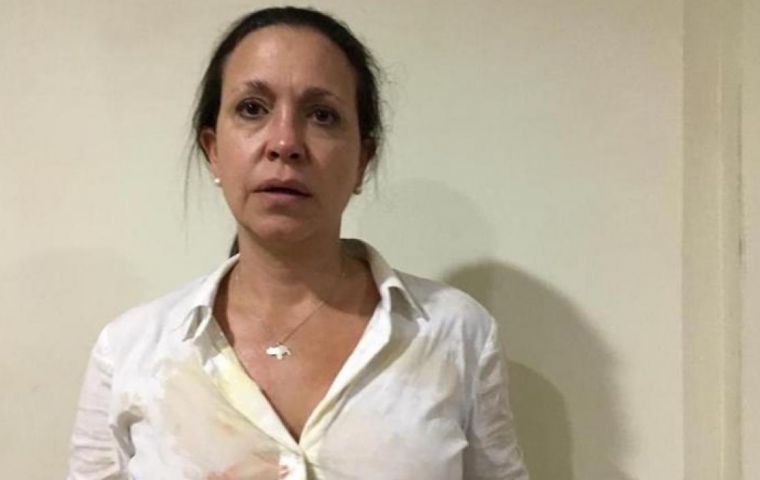 Former Colombian President Andrés Pastrana said Wednesday's attack against Venezuelan opposition leader María Corina Machado was to poison her with a delayed-effect substance.
"The same sources that informed me of the attack on @MariaCorinaYA tell me that the strategy was to inoculate her with a toxic substance with a delayed and lethal effect," Pastrana posted on Twitter late Friday.
"Could it be that the beating was the mechanism used by Narcodictador @NicolasMaduro to attain that purpose?," he added.
Earlier Friday Pastrana said "Maduro is the new Pablo Escobar," because he means "a regional threat."
Pastrana's followers likened the alleged killing attempt on Machado to what happened to Alexander Litvinenko, a former Russian secret service agent who had been granted asylum in the United Kingdom and ended up dead in London due to radiation poisoning at the age of 43.
Machado's political grouping Vente Venezuela sources indicated the attack on Wednesday in Upata, in the state of Bolivar, was carried out by undercover government agents and pointed out that the use of the alleged method is widespread in Cuba, from where the Chavists received a large part of their training.
Machado was elected deputy to Venezuela's in January 2011 but was expelled from the National Assembly (Parliament) in March 2014 for having accepted to become Panama's "alternate representative" before the Organization of American States (OAS).
Since her removal from office, she has repeatedly denounced Maduro's regime for human rights violations.