Falklands' penguin series of coins features the Rockhopper in full color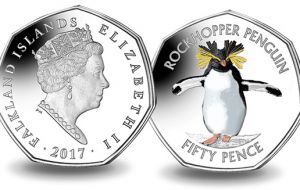 The government and treasury of the Falkland Islands have issued the fifth and final coin which is part of an overall five-coin set featuring one of the planet's most curious and unique species of bird, the penguin.
This new series of coins, which debuted in August, features close-up headshots of the five penguins that inhabit the Falkland Islands, each shown in glorious color to enhance the detail. Saved for the last in the series to appear is the smallest and most agile penguin in the Falkland Islands, the southern rockhopper.
Easily recognizable with its straight thin yellow eyebrows with yellow plumes hanging above and behind the eyes, these gregarious marine birds are among the world's smallest penguins, standing about 20 inches tall. They have blood-red eyes, a red-orange beak, and pink webbed feet.
There is little doubt about this particular penguin's preferred habitat, in terms of its name. Rockhoppers are found bounding rather than waddling, as most other penguins do among the craggy, windswept shorelines of the islands north of Antarctica from Chile to New Zealand. Unlike other breeds of penguin that get around obstacles by sliding or awkwardly climbing, rockhoppers will try and jump over boulders and across cracks.
During the annual breeding season, rockhoppers will make the trek and gather in vast, noisy colonies in the hundreds of thousands and construct burrows in the tall grasses near the shoreline. They will return to the same breeding ground, often to the same nest each year, and usually seek out their previous year's mate. As both parents take turn incubating the eggs, they will aggressively defend their potential chick by pecking at anything big or small that may stray too close.
Rockhoppers are capable of diving up to 330 feet in pursuit of a diet of fish, crustaceans, squid, and krill — which are normally found in more shallow waters. The southern rockhopper penguin group are two subspecies of rockhopper penguin which together are sometimes considered distinct from the northern rockhopper penguin. Sadly, the breed is classified as vulnerable by the International Union for Conservation of Nature with the population declining by a third in the last three decades.
The coin is produced by the Pobjoy Mint at their facilities in Surrey, on behalf of the treasury of the Falkland Islands.