Sunday regional vote in Germany could decide survival of a weakened Merkel coalition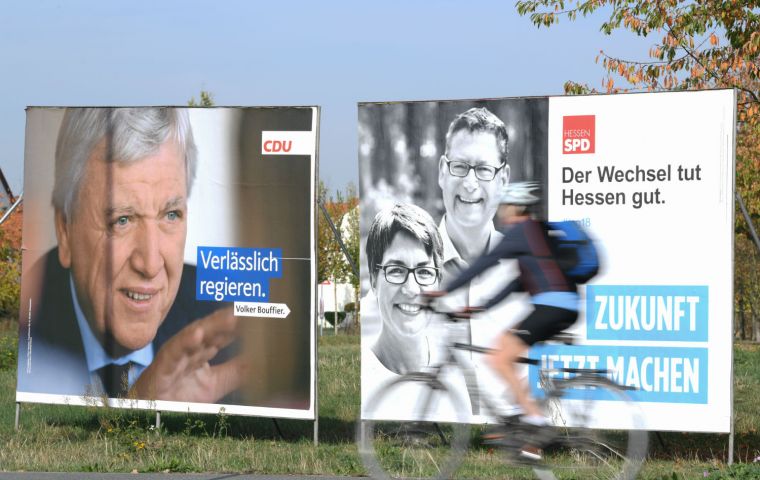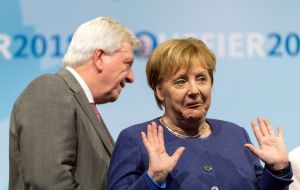 A Sunday regional election in Germany is closely scrutinized since the ruling coalition's survival much hangs upon the outcome of a state vote. Even before the first voters set foot in Hesse's polling stations, it is widely accepted that what happens in Hesse will have consequences in Berlin. For the German government and perhaps even for the German leader herself.
Angela Merkel's party is expected to suffer humiliating losses on Sunday. The CDU leads a coalition government with the Green party in Hesse.
If the party does as badly as polls suggest, that alliance will no longer be viable and the state prime minister and Merkel-loyalist Volker Bouffier, who has ruled the region since 2010, may be out of a job.
Hesse is a wealthy state, home to Germany's financial centre Frankfurt am Main and the unemployment rate is among the lowest in Germany. But dissatisfaction over the cost and availability of housing and concerns over education have dominated the election campaign. So has the issue of immigration.
Polls ahead of the vote suggest that the results will most likely mirror what's happening at federal level in Germany: Big losses for the centre-right CDU and centre-left SPD, gains for the far-right AfD and the Green party.
And a tricky scramble to form a regional coalition government which could see the conservatives removed from power.
As commentators gleefully note, it could mean anything from a "Jamaica" coalition - named after the black of the CDU, the Greens and the yellow FDP - to a left-wing alliance between the SPD, Greens and Left Party.
Mrs Merkel has appeared four times on the campaign trail in Hesse.
On Thursday she looked rather tired as she smiled and waved at supporters. Even she acknowledges that her party and her coalition partners, the SPD, are in trouble. The traditional "Volksparteien" or people's parties were "in danger" she said recently.
Her coalition has veered from crisis to crisis, with spats between Mrs Merkel and her interior minister over migration and the botched handling of a scandal involving her secret service.
The party recently ousted Mrs Merkel's parliamentary group leader and ally in what was widely seen as an attack on her leadership.
So, if the CDU does badly in Hesse, all eyes will turn to the December party conference where Mrs Merkel must stand for re-election as party leader. The party holds such elections every two years.
She has always emphasized that it would be impossible for her to continue as chancellor were she to lose that role.