Suspect with a long criminal record charged with mailing explosives to critics of president Trump
Saturday, October 27th 2018 - 09:48 UTC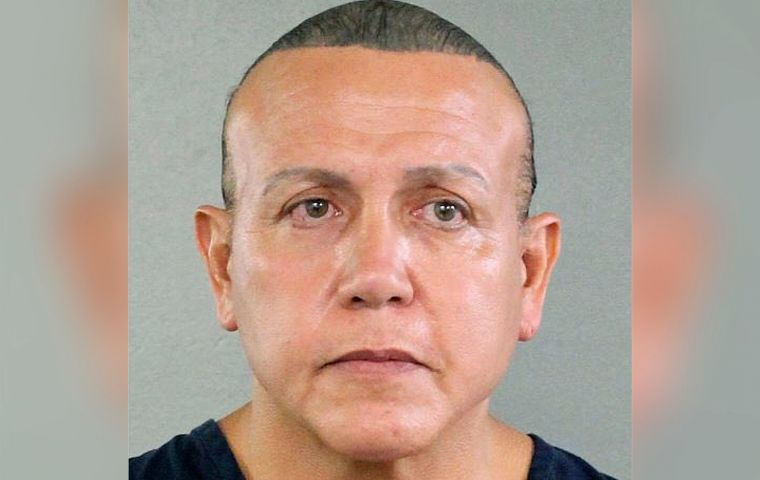 A man living in the state of Florida and with a decades-long criminal record was arrested and charged Friday with mailing at least 13 packages containing explosive devices to critics of President Donald Trump, authorities said.
Attorney General Jeff Sessions told reporters Cesar Sayoc, 56, of Aventura, Florida, is being charged with five federal crimes, including the illegal mailing of explosive devices and threatening government officials. Sayoc faces up to 48 years in prison if found guilty, Sessions added.
The crude pipe bombs were addressed in recent days to former President Barack Obama as well as other high-profile Democrats, including former Secretary of State Hillary Clinton, a former U.S. attorney general, two Democratic members of Congress, and former Central Intelligence Agency Director John Brennan.
FBI Director Christopher Wray, speaking at the same news conference, said at least 13 IEDs were sent in the packages, and each mailing included 6 inches of PVC pipe, a small clock and potentially explosive material.
"These are not hoax devices," Wray said, noting that none of the bombs exploded. Authorities told the Associated Press the devices were not rigged to explode when the packages were opened, but they said they were not sure if that is because the devices were poorly made or were not intended to harm.
Wray added that authorities believe other bombs may still be found. Wray said a fingerprint found on one of the packages led investigators to Sayoc. He said possible DNA evidence was found on another package.
Sayoc was previously known to law enforcement officials and has been arrested nearly a dozen times in Florida, including a 2002 arrest for making a bomb threat. His first arrest in the state was at age 29 for larceny. Other charges against him have included grand theft, fraud and illegal possession of steroids.
Sayoc's arrest Friday in Plantation, Florida, about 30 miles north of Miami, ended a nearly weeklong stretch of terror where at least one bomb was found each day.
Officers also hauled away Sayoc's white van, its windows plastered with pro-Trump stickers, American flags, and images of Democratic figures with red crosshairs over their faces.
His arrest came just hours after the Federal Bureau of Investigation intercepted two more suspicious packages, one addressed to Democratic Sen. Cory Booker, the other to former National Intelligence Director James Clapper. And even as Sayoc was being detained, officials with Democratic Sen. Kamala Harris of California said investigators were looking at a package sent to her office.