UK and Overseas Territories: "perhaps a review of relations is appropriate"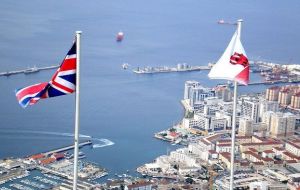 For years there was consensus between the major UK political parties about the Overseas Territories, but that has now changed and the OTs now face a "more hostile and less supportive UK political class," Dr Peter Clegg said, adding that perhaps a review of relations is appropriate, one which would "offer the Territories more autonomy, address the UN's decolonization agenda, and give the Territories a stronger foreign policy voice."
Dr Clegg is an Associate Professor of Politics University at the West of England who has studied and written extensively on the OTs, and was providing a submission for the British Parliament's Foreign Affairs Committee inquiry in to the 'Future of the UK Overseas Territories'.
The inquiry is into "How the Foreign Office manages its responsibility to ensure the security and stability of the UK's 14 Overseas Territories," and the Committee began hearing oral evidence this week, with Dr Clegg appearing before the Committee.
Clegg said, "For many years there has been a high degree of consensus between the major political parties in terms of how the Overseas Territories should be managed and supported. But that has now changed, which has made their position more vulnerable.
"On the Left, the Labour Party under Jeremy Corbyn, has been more forthright in its criticisms of some of the Territories, arguing that if they do not make radical changes to their financial services industries, then direct rule from London should be considered. Corbyn has drawn parallels with the decision of the last Labour government to impose direct rule on the Turks and Caicos Islands.
"Meanwhile on the Right, the longstanding support of many Conservative MPs has been compromised as a result of their position on Brexit. When it came to getting the UK out of the EU, these MPs conveniently ignored the Territories strong preference for remaining. Thus, the Territories are now facing a much more hostile and less supportive UK political class".
Dr Clegg added, "The UK's existing constitutional, political and economic approach to the Territories that has been in place for almost twenty years is sustainable. There has been relative stability for most of that period, but it is clear from recent events that the governing framework is brittle, and does not necessarily serve the Territories particularly well.
"Thus perhaps a more radical review of relations is now appropriate, which would offer the Territories more autonomy; address the UN's decolonization agenda; give the Territories a stronger foreign policy voice; make good any loss in EU financial support post-Brexit; and provide extra financing to establish the foundations of more sustainable and diversified economies.
"By enacting such reforms, the UK's international reputation would be enhanced, and the Territories' confidence in promoting their own and the UK's interests would be boosted."