Europe back into winter time as clock changing moves closer to history books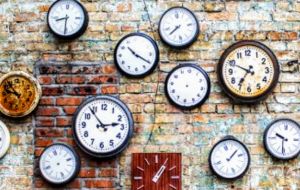 Europe turned back its clocks Sunday to leave Summer's daylight saving time probably for the last time after a poll this year showed 84% of 4.6 million people favoured the daylight saving time change be abolished.
Of those who supported an year-round time, a large majority preferred sticking to Summer time in line with a European Council recommendation last August.
For the past 16 years the summertime change has been regulated by the European Union (EU), which mandates that switchover dates are the last weekend of March and the last weekend of October.
The measure still needs to be approved by the European Parliament, and member states would then have the choice to opt out of the time change.
Currently there are three time zones in the EU: Greenwich Mean Time (GMT), which is used by the UK, Ireland and Portugal; Central Europe Time (CET), which 17 EU member states use and is an hour ahead of GMT; and Eastern European time, which is used in eight states and is two hours ahead of GMT.
If approved, this change combined with Brexit might leave Ireland and Northern Ireland in different time zones since Britain seems to have no plans to abandon this practice.

Other European countries to have also dropped daylight saving time are Russia, Turkey, Belarus and Iceland and the same applies to the northern African kingdom of Morocco "to avoid repeated changes during the year and ... repercussions at several levels."
Contrary to mainstream policy, Slovakia has announced it will stay in winter time once the clock change is abolished.
In the southern hemisphere, Brazil was to move its clocks forward into Summer time this week-end but postponed the measure not to interfere with the presidential runoff between Jair Bolsonaro and Fernando Haddad.