Almost a third of Brazilian voters rejected polarization, and abstained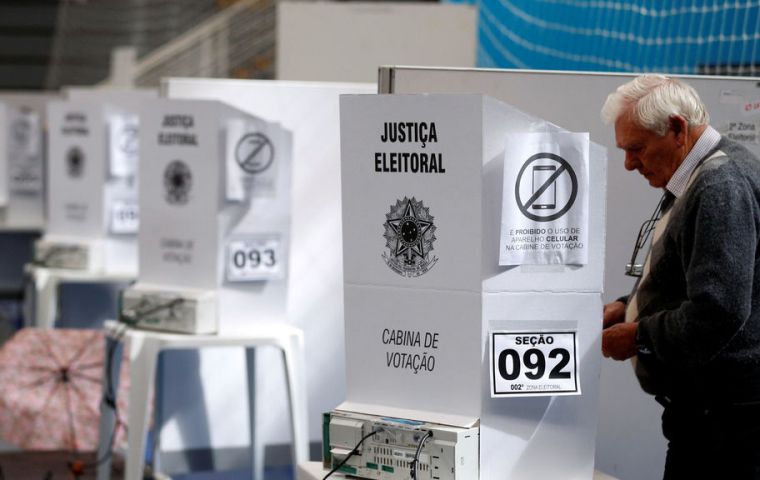 With 99.99% of votes counted, it has become evident that one third of Brazilians turned their backs on the two candidates which have polarized the presidential election and its runoff this Sunday, 28 October.
In effect according to the figures released by the Superior Electoral Tribunal, TSE, abstention reached 21.30% (25.834.172), blank votes, 2.14% and spoilt votes, 7.43%, meaning that over 30% of Brazilian voters did not chose any of the two presidential candidates.
In other words some 31.3 million Brazilians out of 147,3 million in the registry did not cast ballots. The number of blank and invalid votes was the highest since 1989.
Since the return of democracy and the two-rounds vote, the average of invalid votes remained at 4.45% reaching an exceptional 4.7% in 2006, but this time was a record with 7.38%. The average of blank votes has been 1.72%.
In other words and according to statements from Brazilian political analysts, besides polarization this election has shown that a third of the electorate simply does not feel represented.
Virtually one out of three would rather give their backs to the most important decision for a democracy.
As to the Brazilian overseas registered voters, which could cast ballots in 171 booths in 99 different countries, some 125.498, or 71.04% supported Jair Bolsonaro, and 51.148 for Fernando Haddad, equivalent to 28.96%.
However overseas voting performance was not encouraging either since of the 500.727 registered voters, only 40.42% or 191.587 did vote (176.646 valid votes). In other words abstention reached 59.58%, which means 282.394 did not bother to vote. Blank votes were 6.914 (3.61%) and invalid, 8.027 (4.19%).